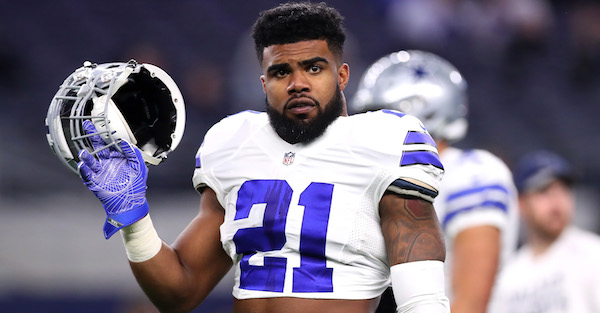 Tom Pennington/Getty Images
ARLINGTON, TX - DECEMBER 18: Ezekiel Elliott #21 of the Dallas Cowboys warms up on the field prior to the game against the Tampa Bay Buccaneers at AT&T Stadium on December 18, 2016 in Arlington, Texas. (Photo by Tom Pennington/Getty Images)
The Dallas Cowboys signed veteran running back Ronnie Hillman on Thursday, which may reveal that the team has concerns about the NFL's decision on star running back Ezekiel Elliott, according to Adam Schefter.
Last week, NFL.com reported that the NFL?s investigation of Elliott was nearing completion.
According to website, the Players Association recently filed to the league what the union, which Elliott and his representatives hope will answer any remaining questions about his alleged involvement into the year-long investigation, which stemmed from an incident that occurred during his college career.
A woman claiming to be Elliott?s ex-girlfriend filed a police report in Columbus, Ohio on July 22,2016 ? which is exactly one year prior to when the Cowboys begin training camp on Saturday ? alleging the running back assaulted her over a span of several days, which launched the league?s investigation.
Elliott was never arrested and the local authorities declined to file charges, claiming that there was conflicting and inconsistent information involved with the incident.
Elliott complied with NFL investigators during his rookie season and expressed his frustration in the league?s continued probing, a feeling also expressed by his attorney and Cowboys owner Jerry Jones.
However, the league also looked into an incident that took place on Feb. 2016 in Florida, where Elliott was training for the 2016 NFL Draft, in which a woman alleged the running back pushed her up against a wall.
Elliott was also shown in videos and photos pulling down a woman?s shirt and exposing her breast on the roof of a Dallas bar during a St. Patrick?s Day parade this offseason.
Elliott?s name also surfaced in media reports alleging he assaulted a DJ at a Dallas bar earlier this month, although the investigation was suspended.