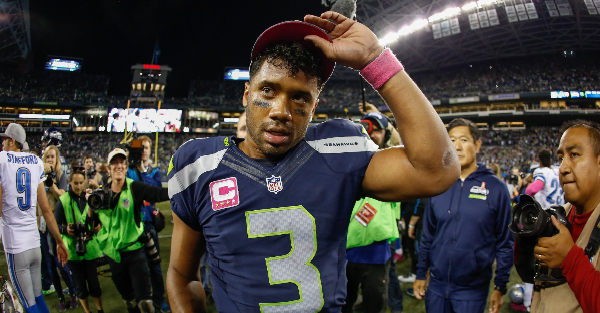 Otto Greule Jr/Getty Images
SEATTLE, WA - OCTOBER 05: Quarterback Russell Wilson #3 of the Seattle Seahawks heads off the field after the game against the Detroit Lions at CenturyLink Field on October 5, 2015 in Seattle, Washington. The Seahawks defeated the Lions 13-10. (Photo by Otto Greule Jr/Getty Images)
Russell Wilson has seen a lot in his six years at the helm of the Seattle Seahawks. Over that time period, he has helped to lead Seattle to a Super Bowl win and, individually, Wilson has reached three Pro Bowls while ascending to elite status at the quarterback position. With that in mind, Wilson has plenty of experience to draw from when anointing praise on opponents and, this week, he showered positive thoughts on Aaron Donald of the Los Angeles Rams.
Bob Condotta of the Seattle Times brings word from Wilson, who honored Donald in saying that he is "the best defensive player" he has ever faced.
?When I think about Aaron Donald, he?s probably in my opinion, the best defensive player I?ve ever played against in terms of actually playing in a game against. That?s a pretty big statement; I?ve played against some really good guys. I think back to my rookie year and my second year when I played against guys like (San Francisco linebackers Navarro) Bowman and (Patrick) Willis and all of those guys are in my head, the top guys I?ve ever played."
Wilson wasn't done there, praising his quickness and projecting him in a lofty way moving forward.
?I think about a guy like Aaron Donald, he?s definitely there too as well, so I have tremendous respect for how he plays the game. He?s really, really tough, he?s really quick, and he?s pretty special. You look forward to those matchups just because those are things that you?ll remember and those are the things that you?ll tell your kids one day ?I played against this guy,? and those are fun things. He?s definitely one of those guys that will probably be a Hall of Famer no doubt.?
Donald is still (very) young but he is a two-time All-Pro selection and three-time Pro Bowler before the age of 27. In fact, the presence of J.J. Watt is all that has kept Donald from earning DPOY honors in the recent past and, in short, Wilson isn't the only one praising his talents. Still, it brings considerable weight when an opponent speaks in glowing terms and the Rams have a generational player at the defensive tackle spot.