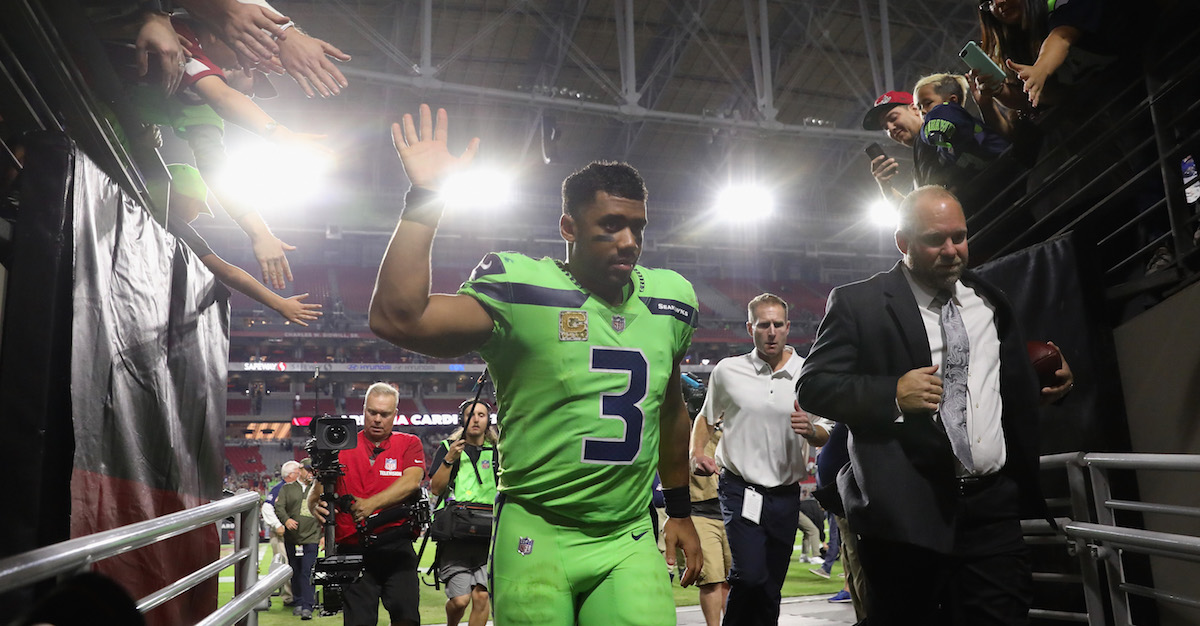 Christian Petersen/Getty Images
GLENDALE, AZ - NOVEMBER 09: Quarterback Russell Wilson #3 of the Seattle Seahawks waves to fans as he leaves the field following the NFL game against the Arizona Cardinals at the University of Phoenix Stadium on November 9, 2017 in Glendale, Arizona. The Seahawks defeated the Cardinals 22-16. (Photo by Christian Petersen/Getty Images)
The NFL isn't happy with the way the Seattle Seahawks treated a possible concussion to quarterback Russell Wilson during a Thursday night contest against the Arizona Cardinals, and according to reports, the league and the NFLPA will formally investigate the matter.
This, according to USA Today's Lindsay Jones:
The Seahawks are under fire after sending Wilson back into the Thursday night game literally one play after he was sent to the sidelines by a referee to undergo a preliminary check for a concussion. The sequence in question can be seen below. Wilson did take a pretty good hit, and that led to Austin Davis getting the call from the bullpen.
The NFL's concussion protocol is pretty extensive, even just checking to see if a player has one in-game, so it would make sense that the league is suspicious of whether or not Wilson was actually checked properly. After all, he barely had time for a squirt of water on the sideline, let alone a full evaluation from the medical staff.
According to Seahawks' coach Pete Carroll, via the Seahawks Insider Blog, the organization is cooperating with the NFL in its investigation:
?Yeah, we are cooperating with them, and there is some stuff again (on Wednesday),? Carroll said. ?We are just doing the work needed to get all the information.
"We are going to unveil all of that and talk our way through it, and (involve) the referee and all that, and we?ll figure it out. …We should know more in a couple of days, I think."
For what it's worth, Wilson himself didn't think he had a concussion, but he did certainly get hurt on the play — notably hurting his jaw.
?I got smacked in the jaw pretty good. I wasn?t concussed or anything. I felt completely clear. I was just trying to move my jaw,? Wilson said after the game he finished. ?I was laying on the ground for a second trying to move my jaw, and I think Walt thought maybe I was injured.
?I told him I was good, but he said, ?You?ve got to come off the field.??
If the Seahawks are found to have completely skirted the NFL's concussion evaluation policy, a hefty fine should be expected.