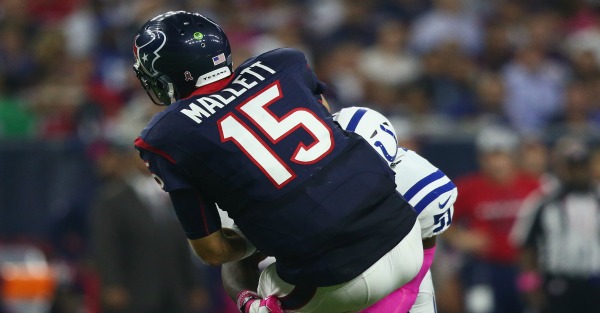 at NRG Stadium on October 8, 2015 in Houston, Texas.
Quarterback Ryan Mallett was released from the Houston Texans, but his former teammates are still talking about how he couldn't get with the program.
"Ryan clearly just didn't get it," one Texans player said, via the Houston Chronicle. "How can you miss the flight? That's ridiculous and disrespectful to just not show up when everyone else is here ready to go. That makes you question whether he cared at all about what we're trying to do, or what kind of problems he's dealing with. He's immature."
Mallett had a number of incidents with being late. He was reportedly late not once, but twice on Saturday. Coach Bill O'Brien sent Mallett home after he arrived late to the team facility, and the final straw for the Texans was when he missed the team flight later that day.
The Texans put up with Mallett's consistent tardiness and fined Mallett on a number of occasions. Unfortunately, the team still owes Mallett $1.47 million in termination pay.