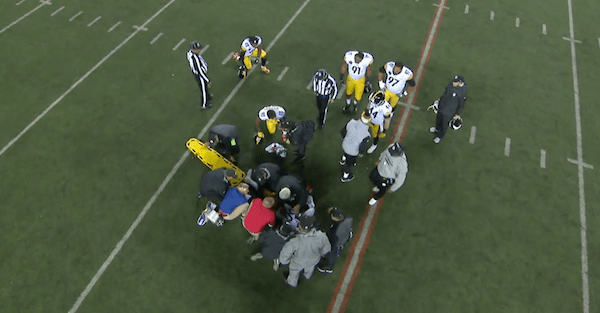 rajprashad/Clippit
Clippit Shazier
During the Pittsburgh Steelers-Cincinnati Bengals tilt Monday night, Pittsburgh linebacker Ryan Shazier was carted off the field after a back injury left him motionless on the field.
ESPN's Michele Steeler spoke with a neurologist associated with the NFLPA and the prognosis is not good at all.
Shazier suffered the injury after attempting a tackle on Cincinnati's Josh Malone. Shazier went to the ground immediately after the tackle attemp, clutching his back and signaling that something had gone terribly wrong.
On Tuesday, an update emerged on Shazier's health, as the NFL's Ian Rapoport said that Shazier had shown "promising signs" with his back injury, and that Shazier had "some movement" in his lower extremities.
Steelers head coach Mike Tomlin also released a statement on Tuesday, saying that there was no significant update on Shazier, but that Shazier was "in good spirits".
However, if Steele's neurologist source is to be believed, then it looks like any potential for a return to the field this season or ever is severely in question.
Shazier — the No. 15 overall pick in the 2014 NFL Draft — is a former Pro Bowler, notching 204 tackles, 7.0 sacks, seven forced fumbles, and seven interceptions over four seasons with 40 starts and 45 total games played.