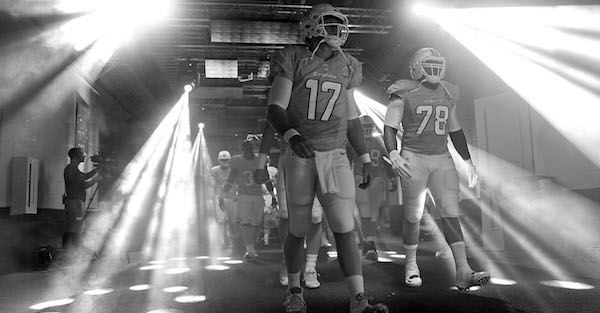 Mike Ehrmann/Getty Images
MIAMI GARDENS, FL - AUGUST 29: (EDITORS NOTE: Image has been converted to black and white.) Ryan Tannehill #17 of the Miami Dolphins takes the field during a preseason game against the Atlanta Falcons at Sun Life Stadium on August 29, 2015 in Miami Gardens, Florida. (Photo by Mike Ehrmann/Getty Images)
Ryan Tannehill apparently suffered a left leg injury at training camp on Thursday, and the Miami Dolphins may be scrambling for a quarterback, per ESPN.
If they do need another option, according to Dolphins beat reporter Omar Kelly, he'd imagine Jay Cutler would get the call over Colin Kaepernick.
ESPN's Adam Schefter reports the Dolphins are "concerned" about Tannehill's injury:
Tannehill fell awkwardly on the sideline while scrambling and didn't get up. His left knee was looked at, the same knee in which he sprained his ACL and MCL in last season, but didn't require surgery.
Here's what Cutler told Schefter about possibly returning to the NFL after his retirement.
"To say 'Hey, we're going to sign you on Monday we need you to play on Sunday' as a quarterback, that's so challenging. I think Tony's situation with possibly leaving the door open in Dallas if that's what he's doing is a little bit more realistic because he knows the system, he knows the guy, he knows expectations, he's comfortable in the building. To go someplace completely foreign and try and learn a whole new system and develop timing with guys, especially on a team in a playoff race, that's a tall order."
We'll continue to update this story as more information becomes available.