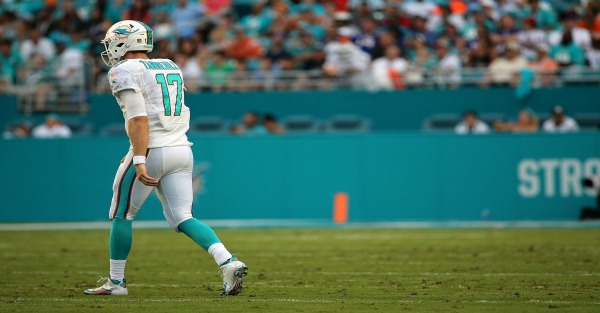 during a game at Sun Life Stadium on September 27, 2015 in Miami Gardens, Florida.
Miami Dolphins quarterback Ryan Tannehill vehemently denied that he mocked practice squad players by saying, "Enjoy your practice squad paycheck." According to Tannehill, that never happened.
"Yeah, I'm upset. It's slanderous to report things I didn't say, to degrade my reputation, it's sickening to me," Tannehill said, via the NFL Network's Around the NFL blog.
Tannehill really meant to use the word "libelous," not "slanderous," as libel is written defamation while slander is oral defamation. Either way, several Dolphins players claimed the report in question by the National Football Post didn't exactly happen as it was reported.
Wednesday's Dolphins practice was hectic to say the least. New interim coach Dan Campbell had the team doing some old-school physical drills that aren't usually done during the regular season. Also, according to the Miami Herald, a fight broke out between receiver Jarvis Landry and safety Cedric Thompson early in practice that was open to the media.