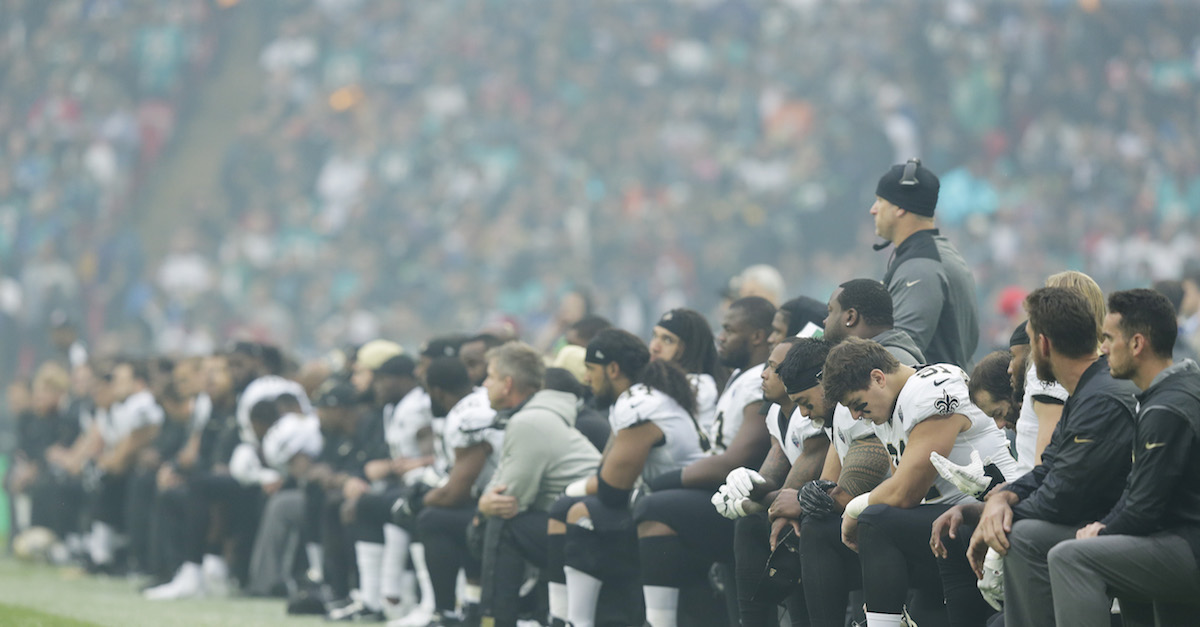 Henry Browne/Getty Images
LONDON, ENGLAND - OCTOBER 01: The New Orleans Saints players kneel before the anthem is played at the NFL game between the Miami Dolphins and the New Orleans Saints at Wembley Stadium on October 1, 2017 in London, England. (Photo by Henry Browne/Getty Images)
A season ticket holder of the New Orleans Saints is suing the team due to several players kneeling during the national anthem, according to Chris Calder of the New Orleans Advocate.
Lee Dragna is suing the team for a refund on his tickets and attorney's fees because he claims the demonstrations that protest police brutality and racial injustice during the national anthem have prevented he and his family from enjoying the games.
Dragna last attended the team's home season opener and said some players did not take the field during the national anthem. Once the players took the field, the suit says "they passed directly in front of where the petitioner and his guests were seated. Many of the fans in that area booed and cursed at the Saints players."
Dragna says the protests have caused "borderline dangerous" conditions among fans near his seats after many have cursed the players and spilled their beer. The tickets were worth $8,000, but when Dragna asked the team for a refund, his request was denied. Despite it being the fans that have caused a rowdy environment Dragna says, "the Saints created that behavior by condoning it."
Protests prior to NFL games started when former San Francisco 49ers quarterback Colin Kaepernick first sat and then knelt during the national anthem in the 2016 season. Dozens of players across the NFL have previously sat and knelt during the national anthem to continue the movement now that Kaepernick has yet to be signed by an NFL team.
It remains to be seen if Dragna has a serious case against the Saints, but it figures to be a case many teams across the league will be monitoring as more fans could begin to file similar lawsuits.