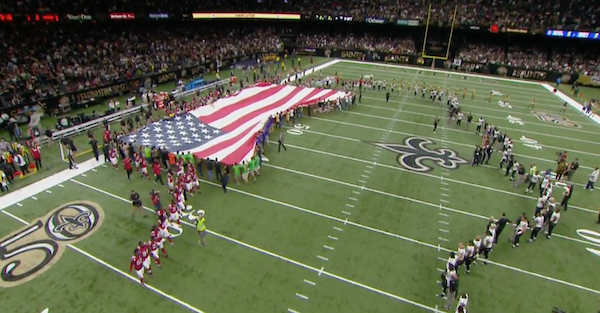 Screenshot
The New Orleans Saints and Atlanta Falcons took the field Monday night for one of two yearly battles between the NFC East rivals.
And while both teams stood while the national anthem was played, the squads decided earlier in the week they would all join hands at the center of the field in reflection of the shooting in North Carolina and Oklahoma earlier last week.
Elsewhere, Cam Newton protested for the first time with a Martin Luther King Jr. quote on a shirt during warmups, stating ?Injustice anywhere is a threat to justice everywhere.?
According to reports from the Washington Post, Charlotte police have maintained Scott posed an ?imminent deadly threat? when officers shot him.
Newton commented on social tension on Wednesday, as he discussed his perspective on issues in America and how it relates to him, via Sports Illustrated:
?I?m an African-American. I am not happy how the justice has been kind of dealt with over the years. The state of oppression in our community. But we also, as black people, have to do right by ourselves. We can?t be hypocrites.

?I say that on one voice but also on another voice that when you go public or when things happen in the community, it?s not the fact that things are happening. It?s the way they?re being treated after they?re happening. When you get a person that does some unjust things or killing an innocent person, killing fathers, killing people who have actual families. That?s real.?
Newton?s comments follow those of other athletes, such as Kaepernick, who has kneeled as a form of protest to the national anthem. Newton has not, as of this writing, protested the national anthem.
?I am not going to stand up to show pride in a flag for a country that oppresses black people and people of color,? he said. ?To me, this is bigger than football and it would be selfish on my part to look the other way. There are bodies in the street and people getting paid leave and getting away with murder.?
The NFL replied to the controversy with a statement saying, ?Players are encouraged but not required to stand during the playing of the National Anthem."