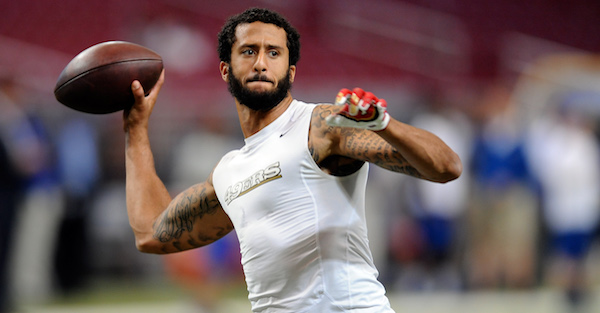 Michael B. Thomas/Getty Images
ST. LOUIS, MO - NOVEMBER 1: Colin Kaepernick #7 of the San Francisco 49ers warms up prior to a game against the St. Louis Rams at the Edward Jones Dome on November 1, 2015 in St. Louis, Missouri. (Photo by Michael B. Thomas/Getty Images)
It was another ineffective day at the helm for 49ers quarterback Blaine Gabbert on Thursday night, and according to some, the team is now ready to turn to Colin Kaepernick.
Kaepernick will reportedly get the start in Week 6 against the Buffalo Bills after Gabbert went 18-of-31 for 162 yards, one touchdown and two interceptions Thursday night in a 33-21 loss to Arizona.
Bleacher Report's Jason Cole broke down the likelihood of Kaepernick taking over, but all else seems to support his theory.
RELATED: This blooper backs up how awful Thursday Night Football was
While Gabbert has reportedly outplayed Kaepernick in practice, his performance in games has been substandard at best. Through five games, he's gone 1-4, thrown five touchdowns to six interceptions, and only gone over 200 yards passing once. The hope is that Kaepernick's on the practice field will not be a reflection of what he can do on gameday.