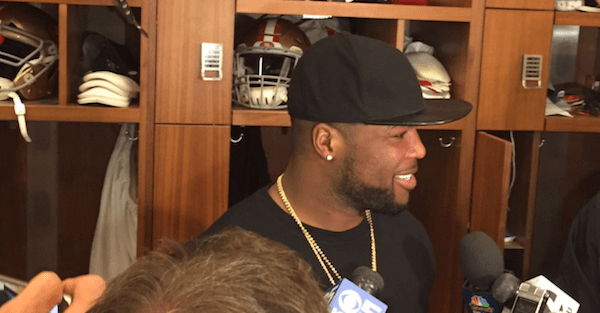 @caminman/Twitter
The San Francisco 49ers have only five wins to their name and they're far from a playoff team this season, but that hasn't stopped some in the franchise from thinking big in regards to next season.
And by some, we're speaking specifically about running back Carlos Hyde, who has boldly declared that the 49ers will win the Super Bowl in 2018-19.
Here's what he said, via Cam Inman:
"Minus our record, we're a really good football team. Next year we're going to win the Super Bowl," Hyde said. "I feel we've got a chance to go the Super Bowl next year and I don't want to go to another team."
The last part of Hyde's comments is interesting because he's heading into free agency as soon as this season is done. Hyde, who's been with the 49ers since he was drafted in the second round of the 2014 NFL Draft by the franchise, obviously feels San Francisco has something good cooking. Despite the fact that he could go elsewhere next season, it sounds like he wants to stay in the bay.
They're obviously feeling very bold in the bay because Hyde wouldn't say something so brash if he didn't feel the 49ers have what it takes to back it up. Of course, plenty of players have wasted hot air before on championship predictions, but it's well worth noting that since starting the recently traded for Jimmy Garoppolo, San Francisco is riding a four-game win streak.
That's a win streak that includes wins over good teams like the Tennessee Titans and the AFC South division champion Jacksonville Jaguars mind you, so perhaps Hyde is on to something.