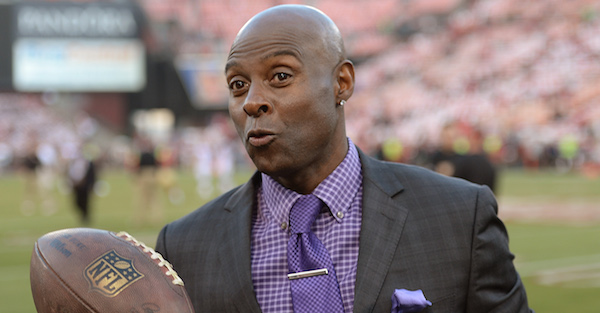 <> at Candlestick Park on December 23, 2013 in San Francisco, California.
Jerry Rice was quick to weigh in on the DeflateGate case involving the New England Patriots and Tom Brady, but it turned out he wasn't so clean after all.
Rice admitted to using stickum, which was banned in 1981, but proceeded to backtrack, saying he used the wrong word. So when the topic was brought back up during an appearance on Pro Football Talk Wednesday afternoon, Rice strayed away from the topic.
From Pro Football Talk:
?You know the thing is, the way I worked and my work ethic and stuff like that it really speaks for itself,? Rice said. ?I?m not even going to address that anymore. When people think about me they think about the time I put in on the field. And even with the situation with the New England Patriots. The Patriots, they really deserve what they got by winning the Super Bowl, you know, that?s fantastic. I look at the Patriots and I think about the San Fransisco 49ers and what they were able to accomplish. And I look at Tom Brady ? you know what? ? he was able to accomplish winning four Super Bowls. So you know those are the things I?m focusing on right now and you know my work ethic was everything during my entire career and I think it speaks for itself.?
Rice dancing around the question and never giving a complete answer doesn't quell the idea that his first statement was true, and the best receiver to ever play the game really did cheat.