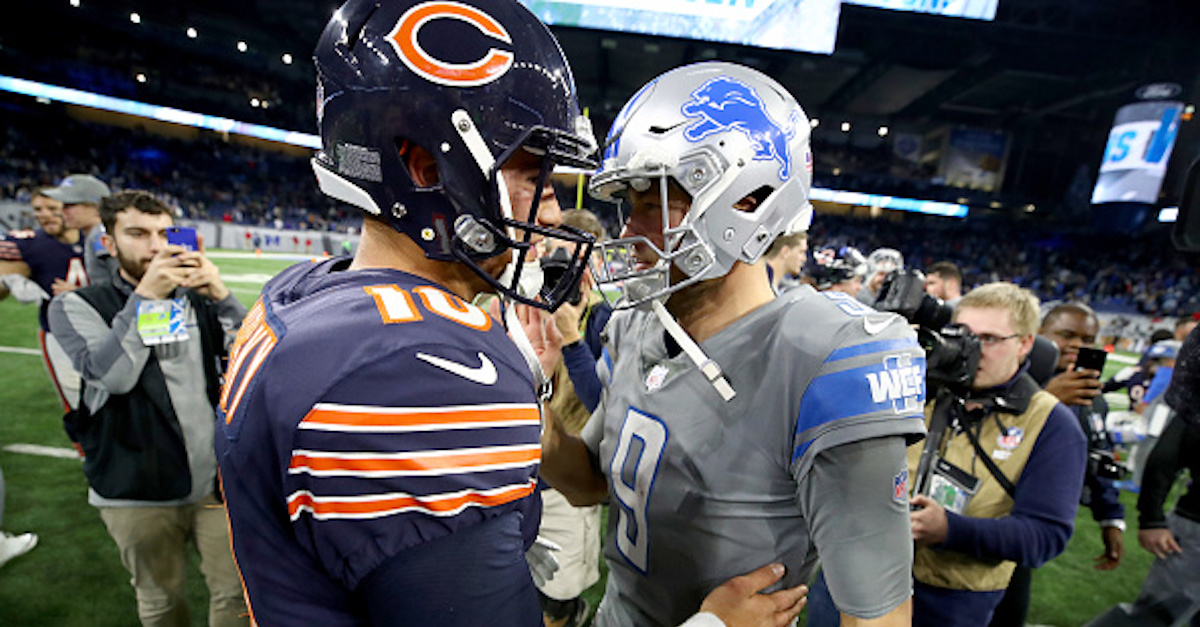 Gregory Shamus/Getty Images
DETROIT, MI - DECEMBER 16: Detroit Lions quarterback Matthew Stafford #9 talks with Chicago Bears quarterback Mitchell Trubisky #10 after the Lions defeated the Bears20-10 at Ford Field on December 16, 2017 in Detroit, Michigan. (Photo by Gregory Shamus/Getty Images)
There are certainly a handful of NFL teams that have to be feeling good about what they can accomplish in the future.
No, they may not be Super Bowl contenders this season, but with a crop of young and talented player, good coaching and a few strong moves in the future, they very well could be the next New England Patriots.
Mike Freeman knows a thing or two about the NFL and he's as connected as they come when it comes to his relationships with scouts and general managers in the league, so when he writes about a team or a player in his 10-Point Stance columns on Bleacher Report, said team or player certainly deserves a good hard look.
And that's what brings us to the Chicago Bears, who certainly aren't the Patriots right now with their 4-10 overall record, but one of Freeman's sources, an NFL scout, feels Chicago is the team with one of the brightest futures in the NFL.
Surprising? Here's what the scout said:
"When you watch [Mitchell] Trubisky, he has some big-time throws. Once you bring in a [new] coach for him, someone more offensive-minded, the Bears could be really solid. They already have a good running back, some pieces on defense; I could see them being next year's Rams."
The NFL is truly a quarterback league. Tom Brady proves that nearly every season and we saw the difference a healthy Aaron Rodgers can make for the Packers, and thus the NFC playoff picture.
The Rams were brought up by the NFL scout and they're another perfect example of quarterback play making a team. Jared Goff struggled a bit during his first year in the league, but now that he has some experience under his belt and a great head coach in Sean McVay, the sky seems to be the limit for the 10-4 Rams.
Trubisky has only started 10 games for the Bears and he certainly hasn't been perfect with seven touchdowns compared to seven interceptions, but he's shown potential.
If he can take a Goff-like step up next season perhaps Freeman's scout source will be right about the Bears.
In the NFL right now, quarterback truly is king.