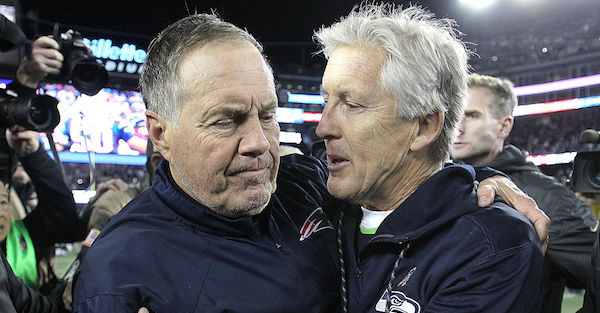 Jim Rogash/Getty Images
FOXBORO, MA - NOVEMBER 13: Bill Belichick of the New England Patriots congratulates Pete Carroll of the Seattle Seahawks after a Seahawks win at Gillette Stadium on November 13, 2016 in Foxboro, Massachusetts. (Photo by Jim Rogash/Getty Images) ***Local Caption *** Bill Belichick; Pete Carroll
The Seattle Seahawks were unceremoniously blasted by the Los Angeles Rams in Week 15 and, in short, that performance was brutal with regard to the team's standing in the 2017 playoff picture. While it is never ideal to lose by a score of 42-7 to a division rival, this loss for Seattle was particularly damning in that the roster could be in for some big-time changes in the very near future.
Michael Silver of NFL.com outlined some of the rumors surrounding the Seahawks' roster make-up right now and some huge names emerged as part of his reporting. Silver indicated that outside linebacker K.J. Wright is "likely to return in 2018" but would make no such declaration about players like Kam Chancellor, Richard Sherman, Cliff Avril, Earl Thomas and even Michael Bennett.
While context is important (and the full piece is certainly worth a read), Silver paints a bleak picture when it comes to the health of Thomas (who is a likely Hall of Fame selection), Chancellor and Avril, with salary cap considerations for players like Bennett. The Seahawks were almost assuredly headed for something like this in the form of a reckoning in the near future but, to be frank, the details outlined here provide a really ugly transitional timetable for Pete Carroll and company if everything falls in a particular way.
The Rams look to be the class of the NFC West at the moment and, considering Seattle's future and just how young Los Angeles is at key positions, that could be the case for a while.