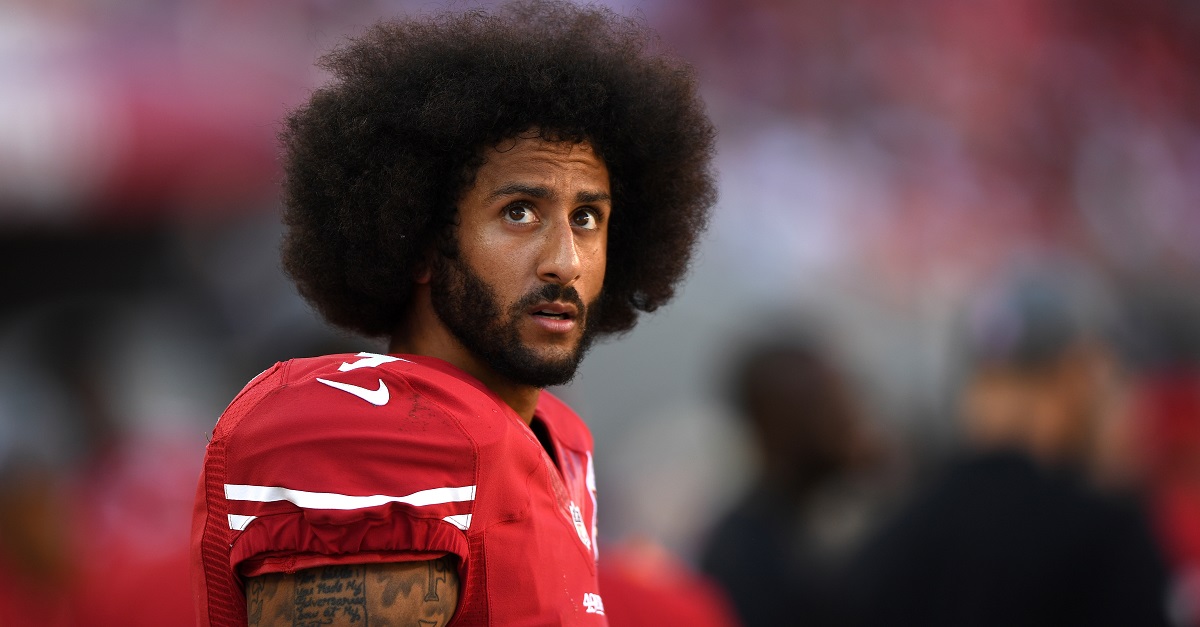 Thearon W. Henderson/Getty Images
SANTA CLARA, CA - OCTOBER 23: Colin Kaepernick #7 of the San Francisco 49ers looks on from the sidelines during their NFL game against the Tampa Bay Buccaneers at Levi's Stadium on October 23, 2016 in Santa Clara, California. (Photo by Thearon W. Henderson/Getty Images)
Fox Sports 1's Shannon Sharpe weighed in on former NFL quarterback Michael Vick's criticism of free agent QB Colin Kaepernick during an episode of his show "Undisputed" on Wednesday.
From that video:
"No he doesn't have a point," Sharpe said of Vick. "What Michael Vick just did was continue to perpetuate a stereotype that blacks who look a certain way, dress a certain way should be judged a certain way. What does Colin Kaepernick's hair have to do with anything? To reform his image from what? Some of the media believe — and even Michael Vick has convinced himself — what Colin Kaepernick did by taking a knee was equal to, if not worse, than what Michael Vick went to prison for. Michael, you went to prison! You are a convicted felon! You needed to change your image!

"Colin Kaepernick took a knee! He took a knee in protest of black and brown unarmed men and women being killed at a disproportionate high rate compared to the percentage in which they are represented in America. And the officers who were doing these killings were being held unaccountable for their actions. He took a knee, the very country that Colin Kaepernick took a knee in was founded on protest. We keep talking about 'he was disrespectful of the flag.'  We have yet to address the issue that he was trying to bring attention to."
RELATED: Colin Kaepernick harshly fires back at Mike Vick after comments over his image
On Monday, Vick appeared on FS1's "Speak For Yourself" and suggested Kaepernick cut his hair and go for more of a "clean-cut" look to display a more "presentable" image.
From that video:
"First thing we've got to get Colin to do is cut his hair," Vick said. "Listen, I'm not up here to try to be politically correct. Even if he puts cornrows in there, I don't think he should represent himself in that way in terms of just the hairstyle. Just go clean-cut. You know, why not? You're already dealing with a lot of controversy surrounding this issue. The most important thing that he needs to do is just try to be presentable."
Kaepernick responded on Tuesday with the following tweet suggesting that Vick was suffering from "Stockholm Syndrome":
Kaepernick, 29, remains a free agent after spending his first six seasons with the San Francisco 49ers. The former starter gained national attention last season for his decision to kneel during the national anthem as a form of protesting social injustice.
The 37-year old Vick played in the NFL for 13 seasons, although his career was interrupted by a 21-month federal prison sentence after he was convicted of running a dogfighting ring.
Vick revealed he had also received advice to change his image during his playing career but "didn't listen until the end, until I was going through the turmoil and the hardships."
"I just think perception and image is everything. This is not the Colin Kaepernick that we've known since he entered the National Football League. I'm just going off my personal experiences. Listen, I love the guy to death. But I want him to also succeed on and off the field. This has to be a start for him," he said.
The major difference between Vick and Kaepernick though is that the latter has never been in prison for endangering the lives of animals and is a big time humanitarian off the field as well. Their situations aren't quite similar, but Kaepernick could probably learn or thing or two from Vick's off-the-field plight.
This likely won't be the last discussion regarding Vick and Kaepernick, who despite still remaining unsigned has become one the league's most polarizing figures.