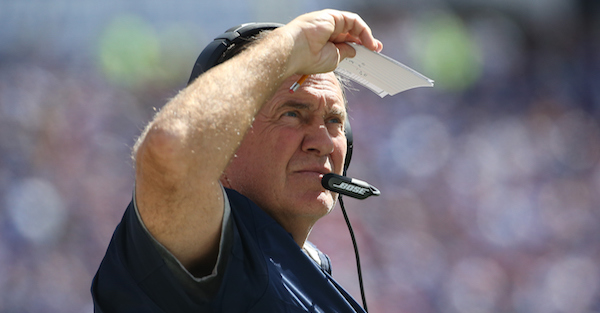 Tom Szczerbowski/Getty Images
ORCHARD PARK, NY - SEPTEMBER 20: Head coach Bill Belichick of the New England Patriots looks on from the sideline during NFL game action against the Buffalo Bills at Ralph Wilson Stadium on September 20, 2015 in Orchard Park, New York. (Photo by Tom Szczerbowski/Getty Images)
Sometimes, you wonder whether talking heads just say things to get a reaction.
Take Shannon Sharpe. On the Fox Sports 1 program, Undisputed, Sharp waxed poetic about why Bill Belichick, the genius behind the New England Patriots, isn't the greatest coach of all time:
?No, I can?t go there I can?t. Spygate happened. It?s on his resume. It?s like Olympic sprinters when they test positive: Everything they do after that you call into question. Even though he?s winning these games, I still [wonder], ?Are they doing something underhanded? Are they still cheating???
RELATED: Shannon Sharpe doesn't think Tom Brady is the MVP this year
Let's go to the resume. Belichick's overall coaching records is 237-115 for a .673 winning percentage. His 17 years in New England are even more impressive. He won nearly 74% of his games (201-71); The Patriots have won 14 of the last 17 AFC East crowns and have been to the Super Bowl seven times (including Sunday's tilt with the Atlanta Falcons).
Shannon, get real.