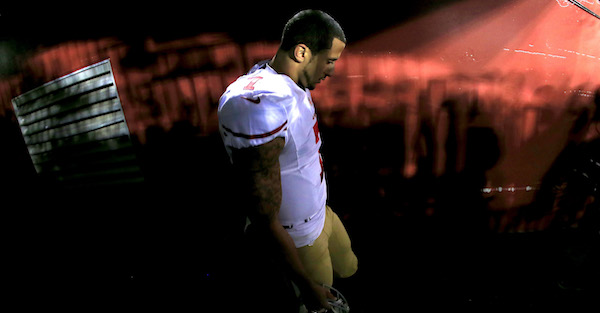 Rob Carr/Getty Images
LANDOVER, MD - NOVEMBER 25: Quarterback Colin Kaepernick #7 of the San Francisco 49ers walks through the tunnel before taking on the Washington Redskins at FedExField on November 25, 2013 in Landover, Maryland. (Photo by Rob Carr/Getty Images)
Since moving on from the San Francisco 49ers, Colin Kaepernick has still not signed with a new NFL team. Fans and analysts have brought up all kinds of different reasons as to why he hasn't been signed, but one Fox Sports analyst, Shannon Sharpe, throughout a surprising team that should sign Kaepernick: The Kansas City Chiefs.
Here's why Sharpe thinks Kaepernick would be a good fit for the Chiefs:
"I like the Kansas City Chiefs. I like Andy Reid, because he is very similar to [Donovan McNabb]. He can throw the ball like Donovan can, but he has better legs than Donovan. And Andy is not going to let you take high risk with the football, a la checkdown Alex Smith.

"Now Alex Smith is about to be 33, he has some concussion problems – because remember, in San Francisco, that's how Kaep got the job."
Sharpe does make some interesting points about the similarities between Donovan McNabb and Kaepernick, and Chiefs' head coach Andy Reid has had success bringing in veteran, mobile quarterbacks before like Alex Smith and Michael Vick.
There is, however, a history between Smith and Kaepernick with the latter replacing the former under Jim Harbaugh in San Francisco, so it's hard to envision a scenario where Smith would be OK bringing in a quarterback behind him who has already taken his job once before.