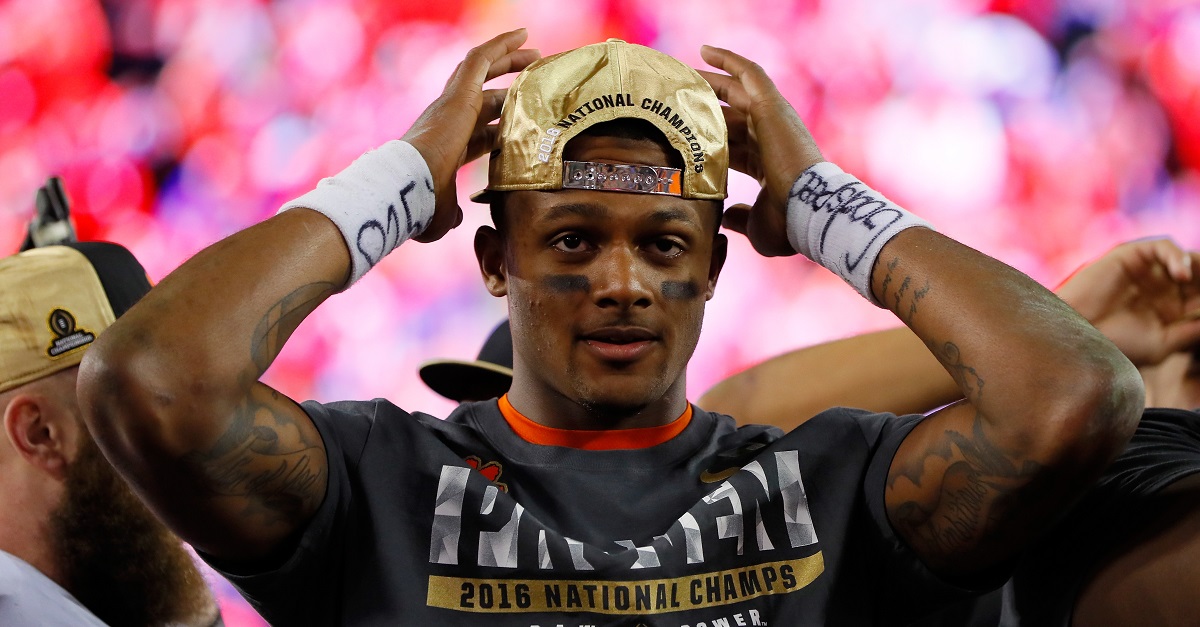 Kevin C. Cox/Getty Images
TAMPA, FL - JANUARY 09: Quarterback Deshaun Watson #4 of the Clemson Tigers reacts after defeating the Alabama Crimson Tide 35-31 to win the 2017 College Football Playoff National Championship Game at Raymond James Stadium on January 9, 2017 in Tampa, Florida. (Photo by Kevin C. Cox/Getty Images)
As the NFL Draft looms around the corner on Thursday, more rumors are flying around about what teams might do with their high draft picks. Most mock drafts have the Jaguars — picking at No. 4 — taking Leonard Fournette since they desperately need running back help for T.J. Yeldon and the rest of the offense. However, they could take a totally different road altogether with new executive Tom Couglin at the helm.
CBS' Pete Prisco was asked about the odds that the Jaguars would draft a quarterback and initially answered with "40 percent" and went on to say that the number is probably going up. That led to this question from a fan and Prisco's answer is pretty eye-opening.
That means Watson could become the No. 4 pick in the draft to replace Blake Bortles who has been struggling ever since he came into the league. In fact, Bortles has more pick-sixes than wins during his tenure in Jacksonville and since Coughlin doesn't have any real loyalty to him, a reset could be in order.
RELATED: NFL Insider "convinced" the Browns will make a horrendous decision at No. 1 overall
With UNC's Mitchell Trubisky rumored to be an option as the top overall pick, that could put two quarterbacks in the top five of a draft that most people have deemed not too good for the position. Let the drafting insanity begin.