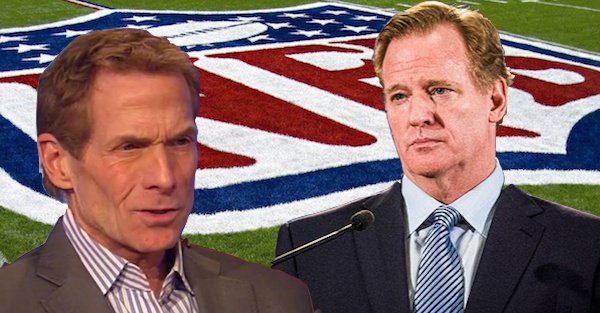 Skip Bayless is a blowhard. That hasn't changed any since he left ESPN for FS1 and in fact, he may be even worse now since he was brought to FOX Sports because of his personality.
So yeah, it's normally advisable to simply brush off any Bayless comments, because he's largely doing it for the show.
With that said, and I realize this is contradictory, Bayless may have hit home with his recent comments regarding NFL commissioner Roger Goodell and his suspension of Cowboys' running back Ezekiel Elliott. Recently, the Star-Telegram published a report detailing Elliott and his team's plan to appeal the six-game suspension, notable among those notes were racially toned threats from Elliott's ex-girlfriend to ruin his career.
If you'll remember, Elliott was accused of domestic violence this past summer, but he was never legally charged and that seemed to be that. The NFL continued investigating the case throughout the year, though, recently coming out with the suspension, saying that Elliott broke the league's personal conduct policy.
The Star-Telegram report is required reading to understand this scandal. It also may put Bayless' latest rant into perspective, because he believes Goodell should be fired.
Listen below:
Bayless called Goodell foolish and even incompetent for not hearing testimony from Elliott nor his accuser during the investigation, which makes sense. It makes Goodell seem ill informed and almost vindictive.
We know the NFL is cracking down on domestic violence and there's certainly nothing wrong with that. In fact, it should be encouraged.
With that said, handing out punishments without having the full story is not a good look from Goodell. We don't expect that to happen in the court of law, and there really is no reason for it to happen in a private NFL investigation, either.
Bayless is right, Goodell does look incompetent in this case.
Bayless is right.
Bayless is right….
(H/T The Big Lead)