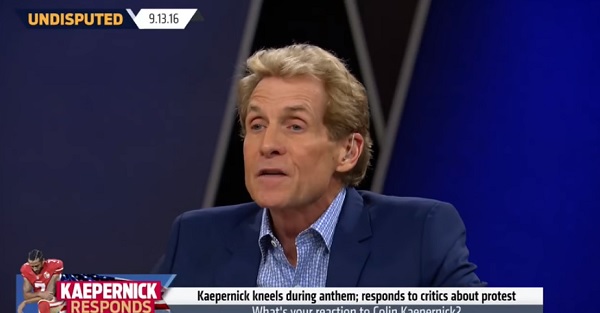 FS1/Undisputed
It looks like Trent Dilfer's comments on the Colin Kaepernick have irked some of his former co-workers.
On his Undisputed show with Shannon Sharpe on FS1, Skip Bayless completely ripped into Dilfer's "be quiet and sit in the shadows" remarks about Kaepernick's public protests during the national anthem.
?The big thing that hit me through all this was this is a backup quarterback whose job is to be quiet, and sit in the shadows and get the starter ready to play Week 1," Dilfer said.
Suffice to say, Bayless disagreed.
"Let?s get back to Trent Dilfer. That was typical old school quarterback mentality that you just spoke of. That was so typical, dispassionate, disconnected to the point of being clueless. Sort of ex-white quarterback mentality: this is how you do it, you should be thankful and you should be honored to be in the NFL quarterback fraternity."

"Obviously, I?m not black, but this is one thing I do know after years and years of working with a lot of black players and black commentators on many networks: That if you go to the place of you're telling a black man, or a black woman that ?You should know your place and stay in it'… when you get to there, them is fighting words. That smacks of plantation mentality. You cannot go there, and he went there. Because no matter what you?re trying to say in the football context, we?re not in the football context any more."
You would have to think the "plantation mentality" comment is something that could draw a response from Dilfer. However, according to the Sporting News, don't expect an apology, because ESPN is not upset with Dilfer at all.
ESPN declined to comment on Bayless' criticism, but a source told Sporting News that Dilfer has the backing of management in Bristol.

Dilfer gave his honest opinion, which is exactly what ESPN pays him to do, said the source.
For the time being, it looks like the ball is back in Dilfer's court.
[H/T Sporting News]