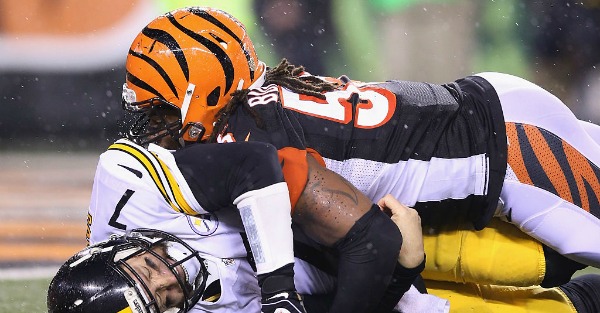 Andy Lyons/Getty Images
during the AFC Wild Card Playoff game at Paul Brown Stadium on January 9, 2016 in Cincinnati, Ohio.
The Pittsburgh Steelers will get their first glimpse of embattled Cincinnati Bengals linebacker Vontaze Burfict Sunday, almost a full year since Burfict's late, concussion-inducing hit on Antonio Brown last year in the playoffs.
Ahead of their matchup, Steelers guard Ramon Foster is choosing his words carefully, but he's not holding back on suggesting that Burfict could be a target if he makes himself one.
"We'll deal with him whenever it gets to that," Foster told the Pittsburgh Post-Gazette. "Of course, we have to protect each other. You can't be cautious. You have to play full speed. If you're out there wondering what other people are doing you're going to end up getting yourself hurt or get somebody else hurt. You just go out there and play football."
Pittsburgh faced the Bengals in week two this season, winning the game 24-16, but Burfict was serving a suspension for several player safety infractions, one of which was the late hit on Brown.
Burfict's sordid history with the division rival Steelers goes far beyond that one hit, though. It also includes questionable hits on Ben Roethlisberger (which many team members believe was aimed at injuring Big Ben), as well as a season-ending one on Le'Veon Bell, both of which occurred during the 2015 regular season.
RELATED: Bizarre delay occurred at halftime of Steelers-Bill game
But Foster insists that Sunday's game is more about a much-needed win than any sort of retribution.
"It's a rivalry game for us. This is a good team," Foster said. "They have a lot at stake, and we do, too. We have to get through Cincinnati to get to where we want to go, and that's our next stop."