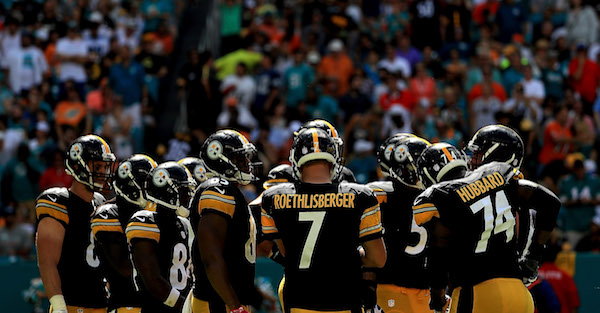 Mike Ehrmann/Getty Images
MIAMI GARDENS, FL - OCTOBER 16: Ben Roethlisberger #7 of the Pittsburgh Steelers calls a play during a game against the Miami Dolphins on October 16, 2016 in Miami Gardens, Florida. (Photo by Mike Ehrmann/Getty Images)
Quarterback Ben Roethlisberger left Sunday's loss to the Miami Dolphins with a knee injury, and it was reported Sunday night that he will undergo surgery with a meniscus tear:
Wide receiver Sammy Coates is dealing with a fractured finger and laceration on his hand as well on the offensive end.
Roethlisberger missed four games last season with an MCL sprain. He's been banged up pretty much yearly, but has been able to play through a chunk of his injuries, including rib, shoulder, ankle and foot injuries.
It will be a serious hit to Pittsburgh's potential for success without Roethlisberger, with just Landry Jones and Zach Mettenberger the only other quarterbacks left on the roster. We'll see how Pittsburgh manages the time Roethlisberger misses.