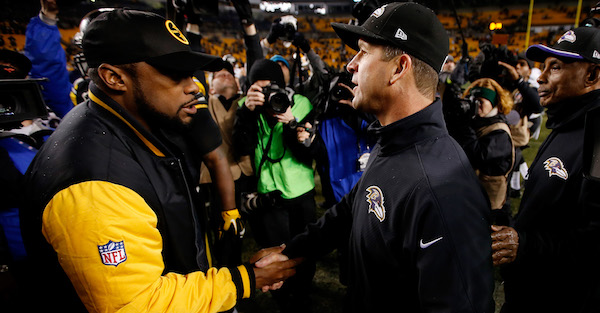 Gregory Shamus/Getty Images
PITTSBURGH, PA - JANUARY 03: Head coach Mike Tomlin of the Pittsburgh Steelers meets head coach John Harbaugh of the Baltimore Ravens after the Ravens defeated the Steelers 30-17 in their AFC Wild Card game at Heinz Field on January 3, 2015 in Pittsburgh, Pennsylvania. (Photo by Gregory Shamus/Getty Images)
The Baltimore Ravens are making a major change after the 2018 season as general manager Ozzie Newsome is stepping down, and owner Steve Bisciotti revealed he almost made another huge change heading into the offseason.
Biscotti was asked about whether he considered firing head coach John Harbaugh, and he said it was something he considered after the team missed the playoffs for the third straight season.
"It was certainly a consideration, but not one that I was inclined to make this year," Biscotti said according to NFL.com.

"He's under as much pressure than probably he's ever been in his life, and I expect him to keep his chin up and take his positivity and his talents and make the most of the season," Bisciotti said. "I may as well replace him now if I tell him to make the playoffs or you're out of town next year. That's not the way we run business here."
The Ravens missed the playoffs after losing to the Cincinnati Bengals in shocking fashion in the regular season finale. The team finished 9-7 and second in the AFC North, and they overcame a lot of injuries to put themselves in position to make the postseason,
"I was very proud of the way John kept fighting, held the team together when we were losing in the middle of the year," Biscotti said. "Joe [Flacco] was obviously producing at substandard with his back injury and after the first couple of weeks, obviously, we were very encouraged by our defense and thought that could hold us together. We didn't perform very well in the middle of the year. I was proud of the way we fought back as a team."
Harbaugh will have pressure on him heading into next season. He guided the Ravens to the playoffs in each of his first five seasons, including a Super Bowl win in 2012, but the team has only made the playoffs once in the last five years. He has a 94-66 record with the Ravens.