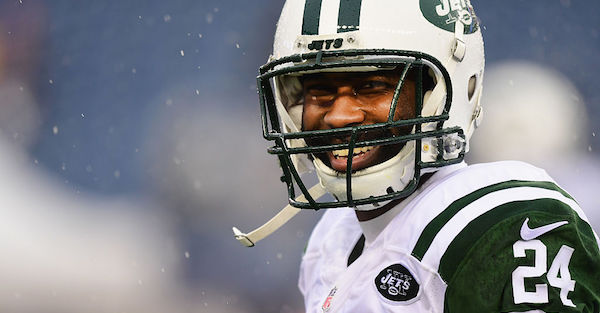 Billie Weiss/Getty Images
FOXBORO, MA - DECEMBER 24: Darrelle Revis #24 of the New York Jets reacts before a game against the New England Patriots at Gillette Stadium on December 24, 2016 in Foxboro, Massachusetts. (Photo by Billie Weiss/Getty Images)
Rumors have circulated in recent weeks that the New England Patriots could be interested in a reunion with cornerback Darrelle Revis, and owner Robert Kraft has offered his opinion on Revis potentially returning.
Related: Landing spot reportedly emerging for Darrelle Revis
?I would love it,? Kraft told the New York Daily News. ?Speaking for myself, if he wanted to come back, he?s a great competitor, I?d welcome him if he wanted to come.?
When asked if there had been any discussions between the Patriots and Revis, Kraft said "ask my boy" in reference to Bill Belichick.
Revis was cut by the New York Jets only two seasons into a five-year, $70 million deal. The Jets owe Revis $6 million this season, so the Patriots could sign him to a cheap deal and the Jets would be forced to pay the remainder of his salary.
Revis helped the Patriots win a Super Bowl in 2014 before re-signing with the Jets. The Pats brought in Stephon Gilmore at cornerback to replace Logan Ryan, and they might need Revis if they decide to trade Malcolm Butler.
(h/t Pro Football Talk)