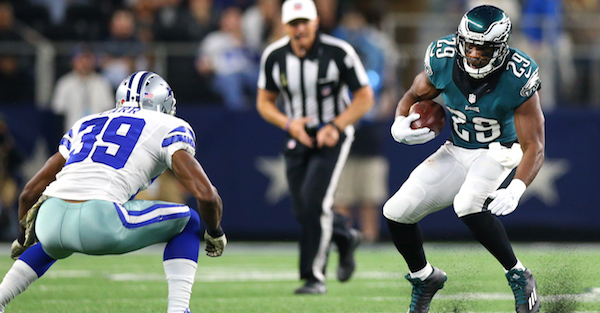 ARLINGTON, TX - NOVEMBER 8: DeMarco Murray #29 of the Philadelphia Eagles runs against Brandon Carr #39 of the Dallas Cowboys in the first half at AT&T Stadium on November 8, 2015 in Arlington, Texas. (Photo by Ronald Martinez/Getty Images)
After a dismal first year in Philadelphia, the Eagles have reportedly agreed to trade DeMarco Murray to the Tennessee Titans.
Murray rushed for more than 1,000 yards in back-to-back seasons before crumbling in Philly, notching just 702 yards in the unsteady Eagles offense.
The veteran back still has four years on his current deal, but Murray should provide a massive boost to a Titans running group that struggled mightily in 2015-16. Tennessee's group of backs rushed for just 1,485 yards, good for No. 25 in the NFL.
Details of the reported trade have not been finalized or released at this time.