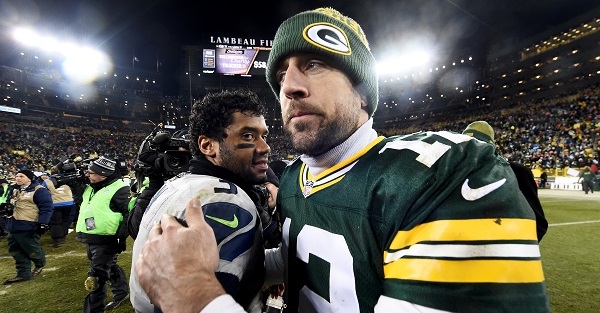 Stacy Revere/Getty Images
GREEN BAY, WI - DECEMBER 11: Russell Wilson #3 of the Seattle Seahawks meets with Aaron Rodgers #12 of the Green Bay Packers after the Green Bay Packers beat the Seattle Seahawks 38-10 at Lambeau Field on December 11, 2016 in Green Bay, Wisconsin. (Photo by Stacy Revere/Getty Images)
The Seattle Seahawks are seemingly in the news for reported locker room issues but, in a recent piece from Seth Wickersham of ESPN, things were taken to a new level. A lot of the report revolved around Richard Sherman (including the title of "Richard Sherman Won't Let Go And It's A Problem") but one segment of the piece was not received well with regard to quarterback Russell Wilson.
It seems to go beyond the normal jealousy aimed at most star quarterbacks. Teammates privately seem to want him exposed, but ask them why, or on what grounds, and their reasons vary. A man who vowed to live in transparency — Wilson famously announced that he was refraining from premarital sex with his then-girlfriend, Ciara — required guests to sign nondisclosure agreements before entering his box at Mariners games. After the Super Bowl against Denver, team management "fell in love with Russell," in the words of a former high-level staffer; defensive players would see him in executives' offices and wonder, "Why not me?" Pettiness grew. In 2014, Bleacher Report reported that some black teammates "think Wilson isn't black enough." Every Christmas, Wilson gives each player two first-class tickets on Alaska Airlines, one of his endorsements. "It didn't cost him anything," one Seahawk told an assistant coach last year. "Big deal."
In response to this and potentially additional portions of the article, Seahawks defensive standout Michael Bennett responded harshly on Twitter.
It should be noted that Bennett has not always gotten along swimmingly with the media but his words here are particularly interesting. He does mention "surprise" at the source of the article, but Wickersham is a highly respected feature writer that has a ton of credibility and would certainly have sourced the material.
Regardless of who is right, it will be interesting to see where this goes moving forward but we know that Michael Bennett isn't thrilled with ESPN right now.