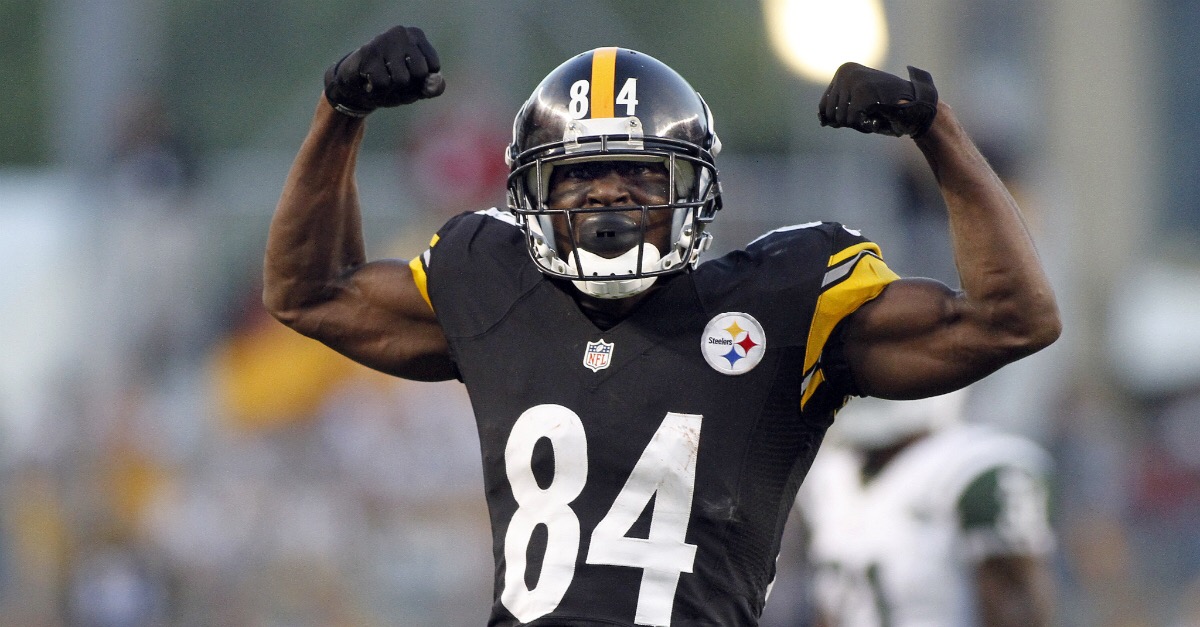 Justin K. Aller/Getty Images
PITTSBURGH, PA - SEPTEMBER 16: Antonio Brown #84 of the Pittsburgh Steelers reacts after making a catch in the second half against the New York Jets during the game on September 16, 2012 at Heinz Field in Pittsburgh, Pennsylvania. The Steelers defeated the Jets 27-10. (Photo by Justin K. Aller/Getty Images)
Antonio Brown's future with the Pittsburgh Steelers was seemingly in jeopardy after his infamous Facebook Live incident with coach Mike Tomlin, but it appears as if he has matured in recent weeks.
Related: The Antonio Brown Facebook live fiasco has taken another bizarre twist, and he could be in even more trouble
Rumors circulated that Brown could be traded due to his selfishness and ego, but according to Bleacher Report's Mike Freeman, Brown wants to be a "Steeler for life."
"I'm told several teams have asked the Steelers if Brown is available, and according to two teams, the Steelers have said hell no," Freeman wrote.
"I'm a Steeler for life," Brown said. "My goal is always to get better every day. No one will ever outwork me. That's how it will always be for me. That will never change."
Freeman said Brown has "righted the course" after the Facebook incident, and Brown showed regret after the it occurred.
"It was a dumb mistake," Brown said. "Can't believe I did it, and it won't happen again. I promise you that.
"The big thing I learned is that I have some growing up to do, and I'm going to do it. I learned a lot from it and will keep learning. I'm going to rebuild the trust with my teammates and my coaches. I promise you that, too."
Brown caught 106 passes for 1,284 yards and 12 touchdowns last season. Brown was fifth in the NFL in receiving yards.
(h/t Bleacher Report)