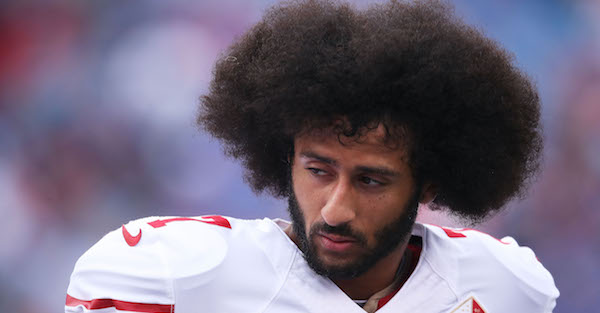 Tom Szczerbowski/Getty Images
BUFFALO, NY - OCTOBER 16: Colin Kaepernick #7 of the San Francisco 49ers warms up before the game against the Buffalo Bills at New Era Field on October 16, 2016 in Buffalo, New York. (Photo by Tom Szczerbowski/Getty Images)
With Marcus Mariota limited with a hamstring injury, the Tennessee Titans enter week five's matchup with the Miami Dolphins with some big question marks at quarterback.
The latest reports on Mariota are that he could end up being a game-time decision, which makes his backup quarterback a very important person in the near future — if not for longer.
Ultimately, the Titans decided to go with former first-round draft pick Brandon Weeden, who never panned out in Cleveland and has been a career backup ever since, but Mike Florio of Pro Football Talk reported that Matt Barkley, Matt McGloin, and T.J. Yates were also options.
What of Colin Kaepernick, some may ask? Kaepernick is surely a better if not more athletically intriguing option than most — if not all — of the quarterbacks mentioned above. Per head coach Mike Mularkey, though, Kaepernick was apparently never even an option.
This, according to quotes from Cameron Wolfe of ESPN:
"I'm not aware if there was," Mularkey said of interest in Kaepernick. "I know he's not familiar with our offense. I know T.J. Yates had some experience with it in Atlanta and with us for a couple of weeks."
Mularkey made it clear that the organization felt Weeden was the best fit.
"As quickly as we could get somebody up to speed in a short amount of time, he had the advantage over everybody," said Mularkey, who said Weeden "threw the ball well" Wednesday. "Formationally and schematically, it's very similar."
Mularkey specifically focused on Kaepernick and his fit (or lack thereof) in Tennesee's offense, though that reasoning doesn't hold much weight considering the similarities between Mariota and Kaepernick as far as their games are concerned. Both are athletic dual-threat quarterbacks so it would seem that Kap would at least make sense as a backup for the Titans.
Alas, another team has decided to pass on Kaepernick. Scheme is reportedly the reason why, but that explanation doesn't necessarily seem to add up.