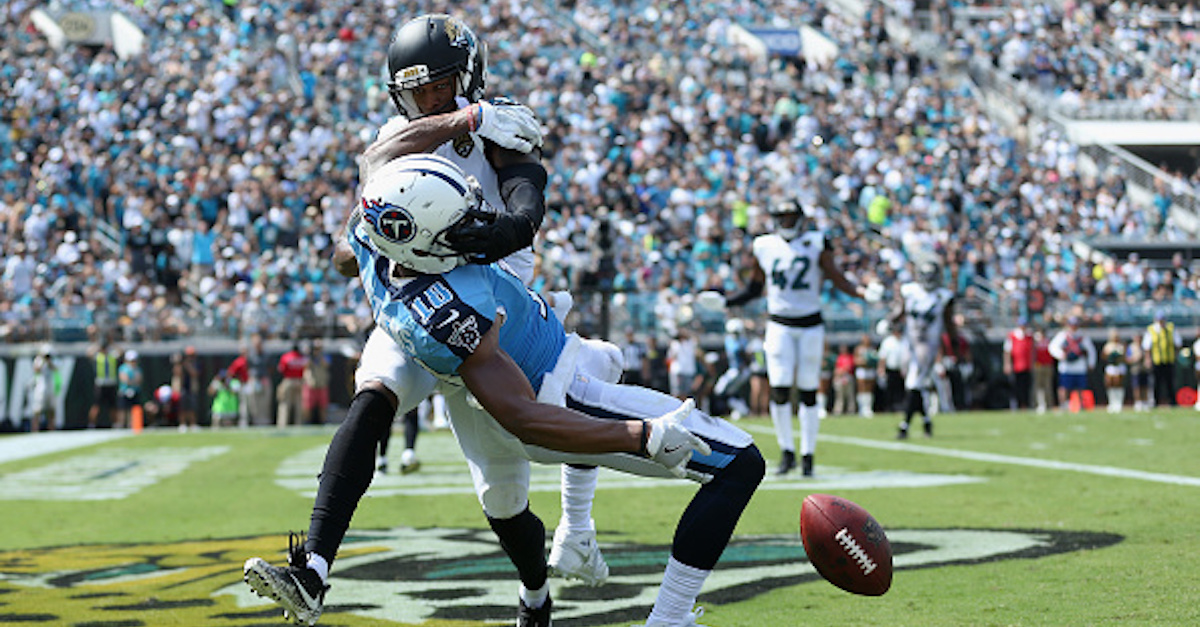 Logan Bowles/Getty Images
JACKSONVILLE, FL - SEPTEMBER 17: Rishard Matthews #18 of the Tennessee Titans tries to make a catch in front of A.J. Bouye #21 of the Jacksonville Jaguars during the second half of their game at EverBank Field on September 17, 2017 in Jacksonville, Florida. (Photo by Logan Bowles/Getty Images)
The Tennessee Titans are coming off a pretty bad loss to the San Francisco 49ers, but even at 8-6 and still with a good shot to still make the playoffs, the Tennessee locker room does not seem to be on the same page.
At least that's the impression Reddit NFL is getting. Take it with a grain of salt, of course, but it's worth noting that one Reddit poster pulled from the very real actions and quotes from Tennessee players to come up with this conclusion.
You be the judge, but here's the post:
Let's break this down one-by-one, as to avoid confusion.
The subtle jab at head coach Mike Mularkey and staff came from wideout Taywan Taylor, who "liked" some pretty anti-coaching staff tweets after the loss to San Francisco.
His wideout co-worker, Rishard Matthews, was openly clear about the fact that the Titans need more offensive creativity. Here's what he said, per Terry McCormick:
?We?re there. We?ve just got to have some more creativity, study going in to set up matchups week to week. We can?t be repetitive and doing the same thing over and over,? Matthews said. ?The guys on the other side get paid too. We?ve just got to do a better job of creating matchups. That?s all it is.?
That's a not so subtle jab Tennessee's coaching staff, made worse by the fact that Matthews was clear that he prefers quarterback Marcus Mariota calling the shots in the no-huddle rather than getting plays from the sideline.
Finally, here's a Facebook post from linebacker Avery Williamson:
It sounds like multiple players in the Tennessee locker room are hoping for Mariota to be given free reigns of the offense, or at the very least they're hoping for the Titans to employ the no-huddle offense more often.
That, of course, puts a lot of power in Mariota's hands and takes a lot of it out of the hands of Mularkey and offensive coordinator Terry Robiskie.
And perhaps that's exactly what the players want.