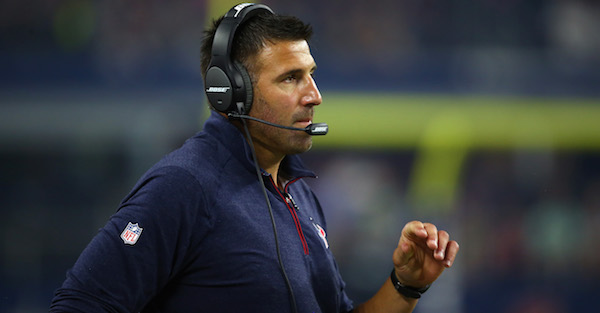 Ronald Martinez/Getty Images
ARLINGTON, TX - SEPTEMBER 03: Assistant coach, Mike Vrabel of the Houston Texans during a preseason game on September 3, 2015 in Arlington, Texas. (Photo by Ronald Martinez/Getty Images)
New Tennessee Titans head coach Mike Vrabel hasn't assembled his coaching staff yet, but he was asked about his potential scheme on both sides of the ball at his introductory press conference.
Vrabel compared college football to a farm system for the NFL, and he said college coaches are paid millions of dollars to prepare players for the next level.
"The NFL has the greatest farm system in the world," Vrabel said. "We pay our farm system coaches $10 million to develop players. Nick Saban is our farm system. Urban Meyer is our farm system. So, those are the types of players they?re developing. Those are the types of players that are playing in high school. That?s where the game is at."
Vrabel's comments are necessarily wrong except for insinuating that the NFL pays college coaches that much money to develop players. But his overall premise is accurate. Unlike MLB or NBA, the NFL doesn't have a developmental system for players after college. NFL teams simply rely on colleges to develop players before they enter the league.
And unlike the MLB and NBA, college football players aren't paid, while college coaches make millions. It's a good strategy from the NFL. They don't pay anything for the development of its players. If they had to, it would cost owners millions and millions of dollars. But it's odd to hear Vrabel bring that up at his introductory press conference.
NFL teams borrow schemes and plays from colleges. That's not surprising. But you don't often hear NFL coaches refer to college football as a farm system. He's not wrong, but NFL owners probably don't want coaches advertising the fact that they are basically getting players developed for free.