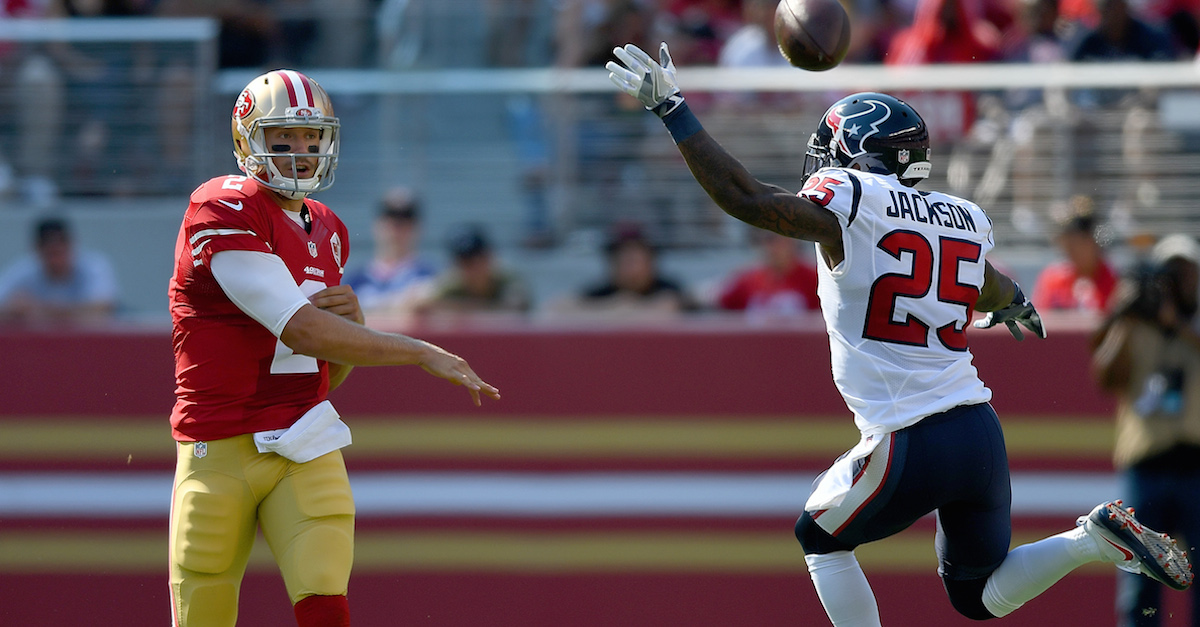 Thearon W. Henderson/Getty Images
SANTA CLARA, CA - AUGUST 14: Quarterback Blaine Gabbert #2 of the San Francisco 49ers gets his pass over the out stretched arm of cornerback Kareem Jackson #25 of the Houston Texans in the first quarter in a preseason game at Levi's Stadium on August 14, 2016 in Santa Clara, California. (Photo by Thearon W. Henderson/Getty Images)
Through three games this season, Blaine Gabbert has been dreadful. But San Francisco head coach Chip Kelly says he has no plans to replace him because Colin Kapernick's not physically ready to play.
After Gabbert posted a paltry 14-of-25 passing for 119 yards and 1 interception in a 37-18 loss to Seattle Sunday, Kelly said he didn't even consider benching Gabbert in favor of Kaepernick.
"He?s (Kaepernick) capable to be the backup," Kelly said. "But I don?t think he?s ready to go full-time. He?s continuing to work on it. I think he?s over [on the practice field working out] right now. And Kap will be the first to tell you, if you guys have been around here before, I think his playing weight has been around 225, and he?s not at that right now. So he?s going out there and continuing to work, continuing to get better. He had a serious layoff in terms of being able to medical rehab. To get the full Kap for what you need, the potential that he has, he needs to continue to just work on the physical aspect of things.?
And getting Kapernick in playing shape should be the first order of business. While Gabbert has proven himself to be a capable backup over the years, that's pretty much where it ends. After three starts this season, he's thrown for 532 yards, thrown three touchdowns to three interceptions, and gone 1-2. The two losses to Carolina and Seattle were by a combined 38 points, and his passer ratings in those games, 64.9 and 51.9, respectively, are among the lowest of any start in his career.
Still, though, Kelly remains firm in his decision,
"Kap is our No. 2 right now, and everybody wants to know why Kap isn?t our No. 1," Kelly said. "I don?t think Kap is 100 percent right now. So that?s what I?m saying.?
RELATED: 49ers could make a drastic decision with Colin Kaepernick
But even aside from Kaepernick's health, there's the matter of Kelly's new offense and whether he's got enough of a handle on it yet. Kaepernick has reportedly only recently started taking snaps with the first team in practice, and a limited amount at that. Kelly says that for the moment, things are still on a wait and see basis.
?We?ll just see how we go offensively," he said. "I mean, if we score 65 touchdowns next week, then I don?t see him getting a shot.?
Considering Gabbert has barely thrown half that number in his entire six-year career, it's probably safe to say we'll be seeing Kapernick under center sooner rather than later.