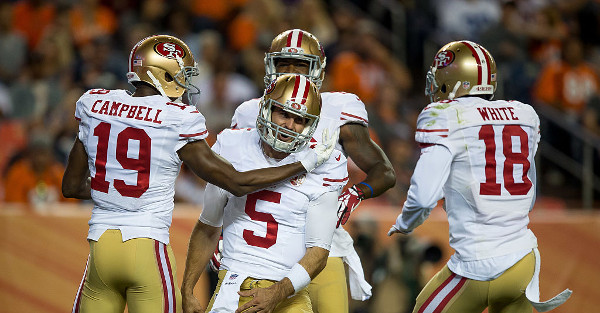 Dustin Bradford/Getty Images
The 49ers had to pick up Christian Ponder off the street basically, after losing third-string quarterback Thad Lewis to an ACL injury. No one could legitimately expect Ponder to do much of anything with just three days to learn San Francisco's playbook, especially facing a team like the Denver Broncos.
RELATED: San Francisco 49ers sign a new QB in the wake of Thad Lewis'ACL injury
Ponder still scored twice, one of which came on a play the 49ers drew up on the sideline.
Credit Ponder for coming in cold and running a play drawn up just moment before to perfection. Ponder may have been a cast off from Minnesota, but having him as insurance as a third string quarterback looks like it may pay off for San Francisco.
[h/t FTW]