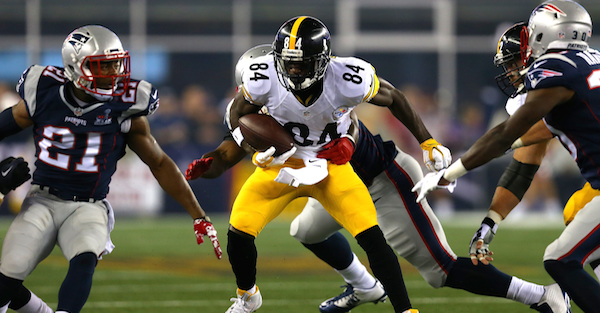 Maddie Meyer/Getty Images
FOXBORO, MA - SEPTEMBER 10: Antonio Brown #84 of the Pittsburgh Steelers runs with the ball after a catch in the first quarter against the New England Patriots at Gillette Stadium on September 10, 2015 in Foxboro, Massachusetts. (Photo by Maddie Meyer/Getty Images)
It turns out Antonio Brown may have been motivated by more than just mere tomfoolery when he streamed his head coach's postgame locker room speech to Facebook Live last week.
According to NFL.com, the Pittsburgh Steelers wide receiver has a six-figure deal with Facebook and may have even been encouraged by the social media platform to record the inside stuff and broadcast it live—as he did following the Steelers playoff victory over Kansas City last Sunday.
RELATED: NFL exec thinks Mike Tomlin could take drastic measures against Antonio Brown
And that adds an intriguing little sidebar to the whole debacle. On top of violating the NFL's social media ban, which prohibits players from engaging in social media until after postgame interviews are carried out, it looks like he may have also infringed on the league's broadcast rights. Any video or audio broadcast from locker rooms is supposedly exclusively owned by the networks.
Brown was admonished by Tomlin for the act, which he called "foolish and inconsiderate," and later fined $10,000 by the Tomlin and the Steelers organization. Brown eventually apologized, saying that "emotions and genuine excitement" got the better of him.
But we may not have heard the last of this.