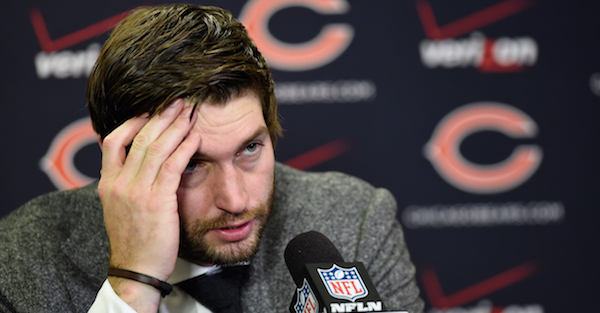 Hannah Foslien/Getty Images
MINNEAPOLIS, MN - DECEMBER 28: Jay Cutler #6 of the Chicago Bears speaks to the media after the game against the Minnesota Vikings on December 28, 2014 at TCF Bank Stadium in Minneapolis, Minnesota. The Vikings defeated the Bears 13-9. (Photo by Hannah Foslien/Getty Images)
Today?s hot name on the NFL quarterback carousel is ? Mike Glennon.
It?s easy to roll your eyes at Glennon because he hasn?t been a full-time starter in the NFL since the 2014 season. But in a quarterback starved league, the 27-year-old ? who has twice as many touchdowns (30) as interceptions (15) in his career ? could be a more appealing option than some of the retreads. (Jay Cutler, anyone?)
Related: Jay Cutler may retire instead of doing this
One team seems to have the edge for Glennon's services.
That makes some sense. The Bears are done with the strong armed but erratic Cutler, and if they can't trade hi, (nearly impossible), they'll release him (far more likely).
Wherever Glennon ends up, he?s going to get mad money. The Buccaneers offered him crazy cash to stay put as the backup to Jameis Winston:
Several reports speculate Glennon could get up to $15 million a year as a starter.
The Bears are going to have competition. In addition to Tampa, the perennially quarterback challenged New York Jets plan to make a big push for the big (6-foot-6) quarterback.