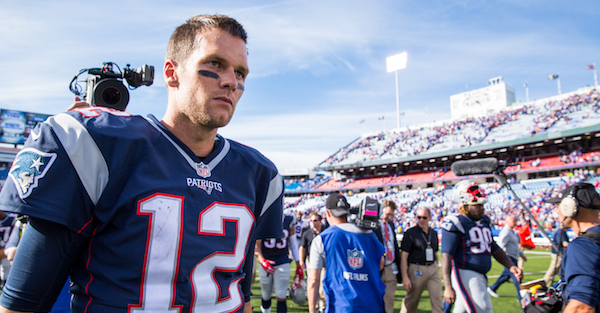 ORCHARD PARK, NY - SEPTEMBER 20: Tom Brady #12 of the New England Patriots walks off the field after the win against the Buffalo Bills on September 20, 2015 at Ralph Wilson Stadium in Orchard Park, New York. New England defeats Buffalo 40-32. (Photo by Brett Carlsen/Getty Images)
Quarterbacks Tom Brady and Aaron Rodgers have spent much of the last last decade as two of the top gunslingers in the NFL.
Wednesday night Carolina Panthers quarterback Cam Newton took home the No. 1 player on the league's top 100 of 2016 following his coming out party of sorts last season.
Newton led his Panthers to a 15-1 record, an NFC championship win and a Super Bowl appearance. He notched 35 touchdowns (career high) to just 10 interceptions (career low). He also ran for over 700 yards and 14 touchdowns.
For as good as Michael Vick was, who most consider a transcendent running quarterback, he never threw for more than 21 touchdowns and never ran for more than eight. Newton has equaled or eclipsed those numbers three times each in just five years as a pro.
Don't get us wrong, Brady and Rodgers will continue floating along as top-tier quarterbacks. Last we checked, Brady still has Rob Gronkowski, Julian Edelman and they'll surely find talent elsewhere. Rodgers has a returning Jordy Nelson and the slender Eddie Lacy.
But what Newton did with Tedd Ginn Jr. and Devin Funchess as his starting receivers is unheard of. Just imagine what he can do with Kelvin Benjamin back in the fold this season.
The reigning MVP is just scratching the surface.