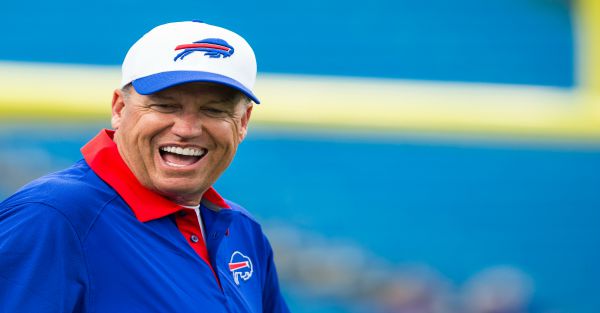 Brett Carlsen/Getty Images
ORCHARD PARK, NY - AUGUST 14: Head coach Rex Ryan of the Buffalo Bills laughs with players before the game against the Carolina Panthers on August 14, 2015 at Ralph Wilson Stadium in Orchard Park, New York. (Photo by Brett Carlsen/Getty Images) *** Local Caption *** Rex Ryan
Come on dude. Rex Ryan is either in or out. You're the boss. You know which way the wind is blowing.
Instead,  Doug Whaley, the general manager of the Buffalo Bills, provided this gem when asked about Ryan's future. The quote comes via ESPN:
"Let's put it this way: None of us know our future," Whaley told WGR 550. "Look where we are. We owe it to our fans and our owners to keep it focused on Miami, because we're still in this."
RELATED: Rex Ryan is on the hot seat.
Dougy, Dougy, Dougy. Come on. Remember this?
We all know the vultures are circling over Ryan's still-warm body. The Bills haven't been to  the playoffs since 1999. At 7-7, there's still a convoluted formula that could result in the Bills making the payoffs, but it's slim sat best.
Instead, it looks like Buffalo's about to find out what the New York Jets did. It takes more than bluster and promises to succeed as an NFL head coach.