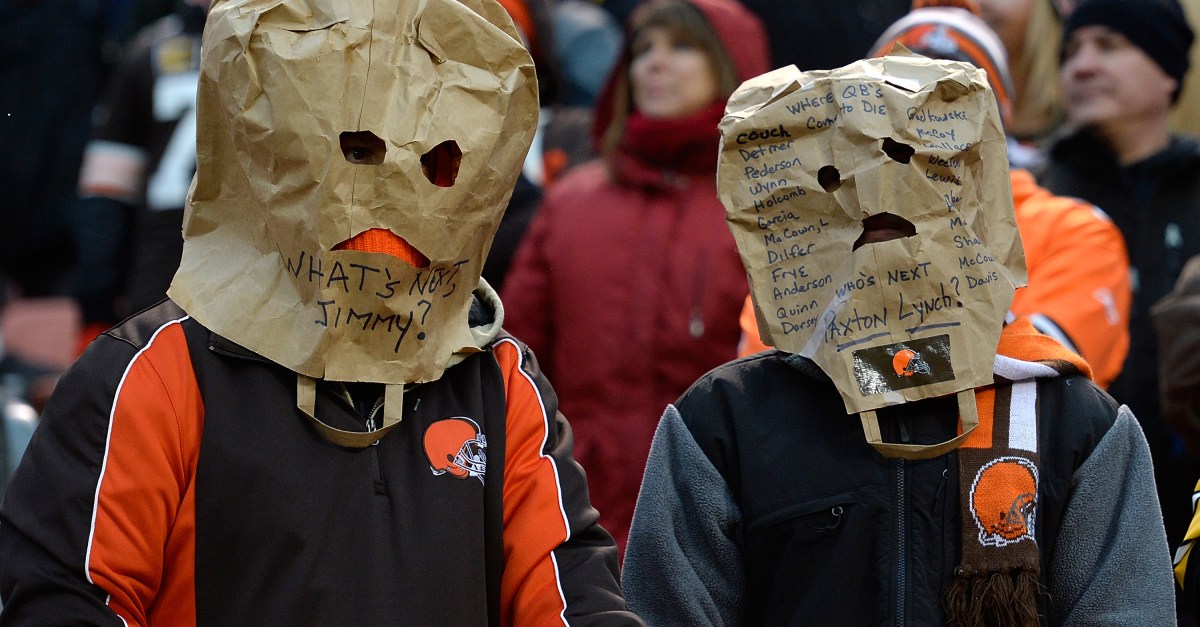 Jason Miller/Getty Images
CLEVELAND, OH - JANUARY 3: Cleveland Browns fans look on during the fourth quarter against the Pittsburgh Steelers at FirstEnergy Stadium on January 3, 2016 in Cleveland, Ohio. Pittsburgh won the game 28-12. (Photo by Jason Miller/Getty Images)
If you had forgotten, the Cleveland Browns have provided another reminder why they're one of the worst NFL teams years in and year out.
Cleveland traded Pro Bowl punter Andy Lee earlier this week to Carolina in exchange for a 2018 draft pick. Now the Browns have realized they don't have anyone left who can actually punt the ball a decent distance.
RELATED: Johnny Manziel could actually return to football this season
Carolina also traded Cleveland a punter as part of the deal, Kasey Redfern. Redfern played in the Browns' preseason game earlier this week and sent a punt 26 yards… worse than any decent high school kicker. But that wasn't the worst, because recently signed Mike Palardy sent one punt 14 yards in the same preseason game.
Browns coach Hue Jackson said — no kidding — the team may have to sign a new punter.
"Obviously, it wasn't up to our standards tonight," Jackson said. "We need to do a little bit better. We will do whatever we feel that we need to do to shore that up. It wasn't as good as any of us liked.

"We will do whatever, whether we need to go find another guy or see if there was something within the process of those kicking that was an issue."
Although the organization is hopeful Jackson will have the team competing for the AFC North in a few seasons, you can rest assured that for right now, the Browns are still the same disorganized Browns they've been.
The good news for Lee is he doesn't have to play there anymore. He told ESPN that playing for Carolina, where his family already lives, is "a blessing from God."