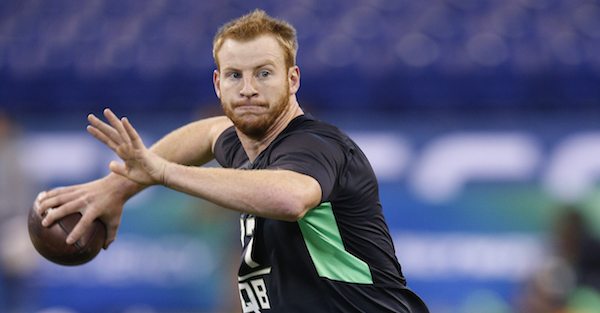 Joe Robbins/Getty Images
INDIANAPOLIS, IN - FEBRUARY 27: Quarterback Carson Wentz of North Dakota State throws during the 2016 NFL Scouting Combine at Lucas Oil Stadium on February 27, 2016 in Indianapolis, Indiana. (Photo by Joe Robbins/Getty Images)
RELATED: Robert Griffin III's place on the Browns depth chart appears to be set
---
You would think sitting in their current situation, the Cleveland Browns would refrain from making disparaging remarks about anyone else's quarterback. Unfortunately, they are the Browns so when they made a recent comment on Carson Wentz, the No. 2 overall pick in the NFL Draft, no one should be surprised.
The Browns, who had the No. 2 pick before dealing it to Philadelphia, didn't feel comfortable taking Wentz that high, because they didn't think he'd be a top-20 quarterback.
"We have to make judgments on the individual players and we're not always going to be right," Browns chief strategy officer Paul DePodesta said. "But in this particular case, we just didn't feel it was necessarily the right bet to make for us at this time. Again, it comes down to individual evaluation of a player. We will not always be right on those type of things"
You won't always be right on those things? Yeah, no kidding. Only I can't think of the last time Cleveland had a sure-fire, top-20 passer, but they should really be careful about casting stones in a house made up of the cheapest glass available.
Maybe their relationship with shell-of-himself RGIII will pan out, though it doesn't appear they'll break the top-20 with him either.
[h/t SB Nation]