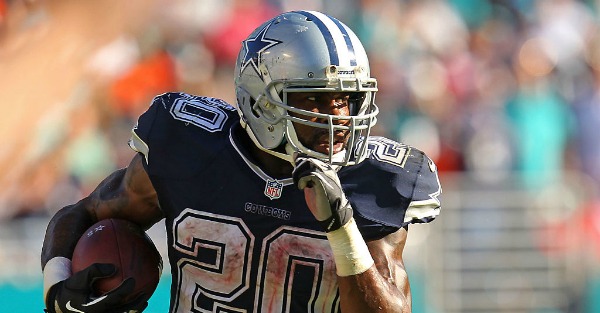 Rob Foldy/Getty Images
of the game at Sun Life Stadium on November 22, 2015 in Miami Gardens, Florida.
A non-football injury that Darren McFadden incurred over the summer could have precluded him from being paid while he sat out the past four months.
But contrary to popular opinion, members of the Dallas Cowboys front office actually have hearts. They've reportedly been paying McFadden his full $1.25 million salary while he recovers from a fractured elbow he suffered Memorial Day weekend when he slipped outside his pool—leading to his missing offseason workouts as well as the entirety of training camp. And this despite being under no obligation by the league to continue paying him or even keep him on the team.
Instead, McFadden was placed on the NFL (Non-Football Injury) List in late August, which gives a player a mandatory six-week recovery period. He was slated to be taken off the list Oct. 23, and Dallas reportedly has three weeks to activate him.
RELATED: Tony Romo's recovery from back injury reportedly not going well
Surely, the rise of rookie sensation Ezekiel Elliott has worked in McFadden's favor, but, along with figuring out what to do with Tony Romo, it leaves yet another weighty personnel decision on the table for Jerry Jones and the Cowboys brass. It's either add McFadden to the 53-man roster or deal him by the Nov. 1 trade deadline.
Either way, McFadden should still have a good amount of value left in his legs, even at 29. Last season he posted the second highest rushing numbers of his career with 1,089 yards.