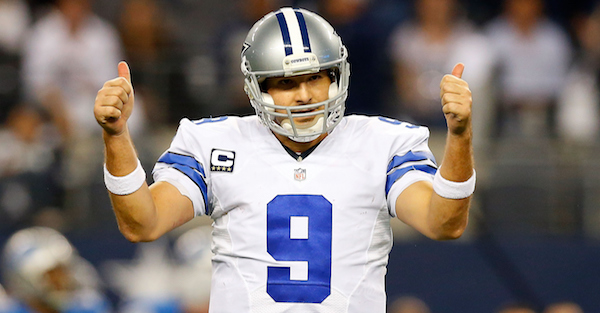 Tom Pennington/Getty Images
ARLINGTON, TX - JANUARY 04: Tony Romo #9 of the Dallas Cowboys gestures against the Detroit Lions during the second half of their NFC Wild Card Playoff game at AT&T Stadium on January 4, 2015 in Arlington, Texas. (Photo by Tom Pennington/Getty Images)
Tony Romo hasn't been the poster child for health in his 14-year NFL career and coming off another season-ending shoulder injury, the Dallas Cowboys are going to take it easy.
RELATED: Someone caught an embarrassing photo of Tony Romo at Cowboys training camp
Romo was held out of practice on Day 2 of training camp but that's part of Dallas' blueprint to keep Romo as fresh as possible, adopting a training camp schedule used previously for Romo in 2014. In the past, Romo would throw for two days, then take a day off.
"We did a little bit more last year, we stretched it and it worked OK," Offensive coordinator Scott Linehan said. "But I felt like he was getting a little bit sore, more sore than the year before, so we'll go back to the 2014 camp schedule.

"We will try to do it like that, (two on, one off) but we'll play it by ear."
That same model in 2014 produced one of the best statistical season of Romo's career, when he completed nearly 70 percent of his passes for 3,705 yards, 34 touchdowns, nine interceptions and a quarterback rating of 113.2.
That's also the same year Demarco Murray destroyed NFL front sevens. But if the Cowboys can replicate that model with Ezekiel Elliott, look out NFC East.
[h/t Sport Day]