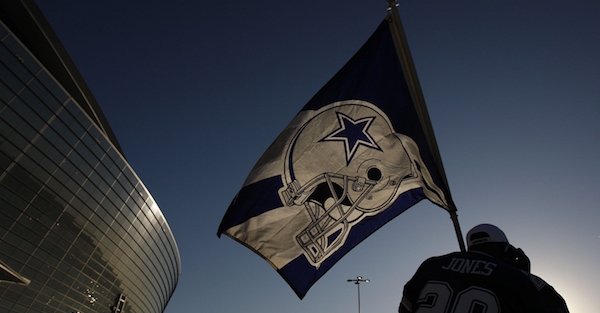 Ronald Martinez/Getty Images
ARLINGTON, TX - SEPTEMBER 28: A fan holds a Dallas Cowboys flag outside of Cowboys Stadium prior to their game against the Carolina Panthers on September 28, 2009 in Arlington, Texas. (Photo by Ronald Martinez/Getty Images)
It appears Mark Sanchez is definitely the odd man out in Denver, per NFL.com's Jane Slater, as the Broncos are shopping him with a specific team in mind: the Dallas Cowboys.
RELATED: Mark Sanchez, a former fifth-overall pick, has been an absolute disaster as his career reaches a new low
With Tony Romo expected to miss nearly half the season with a broken back, Dallas will certainly be in the market for veteran passers to buffer the transition for preseason star Dak Prescott.
Unfortunately for Denver, the Cowboys aren't interested in Sanchez at his current $4.5 million salary. Unless Dallas really starts to feel the pressure in making a move to acquire him, he'll have to take a pay cut to sweeten the deal in the Cowboys favor.
Sanchez was beaten out of the starting quarterback position in Denver by seventh-round pick Trevor Siemian, making him expendable as Denver grooms rookie Paxton Lynch as backup.
Instead of releasing the 29-year-old veteran, president John Elway would rather get a late-round pick in return.
[h/t NFL.com]