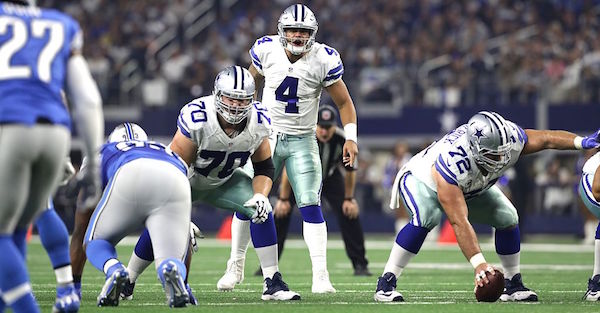 Ronald Martinez/Getty Images
ARLINGTON, TX - DECEMBER 26: Dak Prescott #4 of the Dallas Cowboys looks across the line of scrimmage over teammate Zack Martin #70 as the Cowboys take on the Detroit Lions during the second half at AT&T Stadium on December 26, 2016 in Arlington, Texas. (Photo by Ronald Martinez/Getty Images)
The Dallas Cowboys have lost several key contributors off of last year's 13-3 team, especially off of the defensive side of the ball.
Related: Plenty of needs emerge for Dallas Cowboys after losing free agents by the dozen 
An instrumental part of of the Cowboys' success in 2016 was their offensive line, and they took a huge step in ensuring they'd have another dominant OL in the future by picking up the fifth-year option on Pro Bowl guard Zack Martin, according to NFL.com's Ian Rapoport.
The Cowboys drafted Martin with the No. 16 overall pick in 2014, and he has made the Pro Bowl in each of his three seasons in the league. He was named first-team All Pro in two seasons and second-team All Pro in another.
Martin is expected to make $9.3 million in 2018. The Cowboys also have Tyron Smith and Travis Frederick under contract for the next few seasons, so they will keep perhaps the best OL in the league intact for the next few seasons—which is great news for Dak Prescott and Ezekiel Elliott.
Most of the Cowboys' losses have been on defensive, specifically the secondary. The offense should be dynamic once again, but the defense could have some holes in it that would make another 13-win season more difficult.
Picking up the option for Martin was a no-brainer, but it was still an important step for the franchise.
(h/t NFL.com)