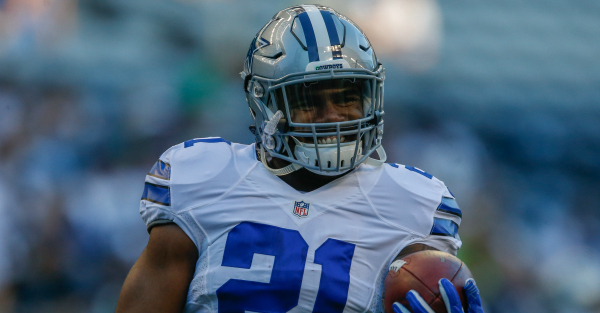 Otto Greule Jr/Getty Images
SEATTLE, WA - AUGUST 25: Running back Ezekiel Elliott #21 of the Dallas Cowboys warms up prior to the preseason game against the Seattle Seahawks at CenturyLink Field on August 25, 2016 in Seattle, Washington. (Photo by Otto Greule Jr/Getty Images) *** Local Caption *** Ezekiel Elliott
The Cowboys ended up pulling the trigger on Ezekiel Elliot with their first pick in the draft last April, but if they'd managed to strike a deal with Philadelphia in March to bring DeMarco Murray back, it would have likely never happened.
Murray told the Star-Telegram that he believed he was headed back to Dallas, but negotiations between the two sides took a turn at the last minute.
?I was very close to going back there,? Murray said. ?There were some things that fell through and just didn?t happen."
Murray's numbers dipped dramatically last season in Philly after leading the league in rushing with 1,845 yards in 2014 while with the Cowboys. In Chip Kelly's offense, Murray looked like a shadow of his former self, sputtering to some of the lowest totals of his career—702 yards yards, six touchdowns, and 3.6 yards a carry on 193 attempts. That's pretty much 50 percent less production across the board from the previous season.
RELATED: Cowboys legend Roger Staubach gives a surprising take on who should be the team's starting QB
Murray attributes his lack of success with the Eagles to just not being a good fit for Kelly's offense.
?Obviously, the scheme just wasn?t a fit for me, and I wasn?t a fit for them,? he said. ?It wasn?t pointing fingers or anything. It just wasn?t a good relationship. Those things happen, and you learn from them."
But while the Eagles were interested in unloading the 28-year-old and his five-year $42-million contract, they were resistant to the idea of dealing him to a division rival. Things obviously turned out well for both parties, though. Through six games, Elliot leads the league in rushing with 703 yards and five touchdowns, while Murray, who ended up landing with the Tennessee Titans, is right behind him in the second spot with 526 yards and four touchdowns.