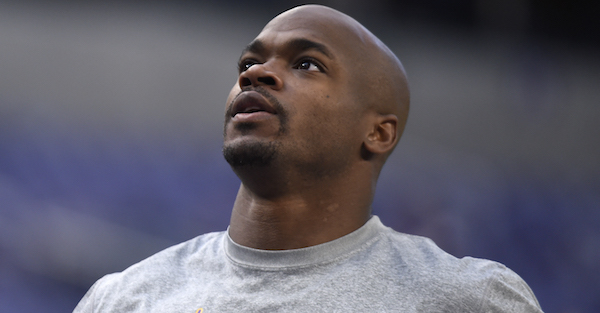 Hannah Foslien/Getty Images
MINNEAPOLIS, MN - DECEMBER 18: Adrian Peterson #28 of the Minnesota Vikings warms up before the game against the Indianapolis Colts on December 18, 2016 at US Bank Stadium in Minneapolis, Minnesota. Peterson returns to play after injuring his knee in week two of the season. (Photo by Hannah Foslien/Getty Images)
Adrian Peterson remains a free agent at this late hour in the NFL calendar and, at least in the minds of some, that doesn't make a great deal sense. After all, the likely future Hall of Fame running back is one of the best ever at the position and, despite his age, there is some reason to think Peterson has some gas left in the tank.
However, the Tampa Bay Buccaneers front office may not be on board with that thinking, with reported indications that Peterson won't be a part of the team's plans. With that in mind, though, Bucs quarterback Jameis Winston did not shy away from the topic of playing with Peterson this week in speaking with the media.
"Absolutely. I don't know no one that wouldn't. Again, it's out of my league. I can only talk about how much I learned from him and how he helped me this offseason."
Winston rightly characterizes the decision as "out of (his) league" and, given what we know, it seems far-fetched. In the same breath, the Bucs would almost certainly be better off in the backfield if Peterson was on the roster and Tampa Bay had some offensive issues during the 2016 season that may have been corrected with more firepower on the ground. Jameis Winston can't do much to influence his own front office at this stage, but now we know how he feels about an the potential to add an all-time great.