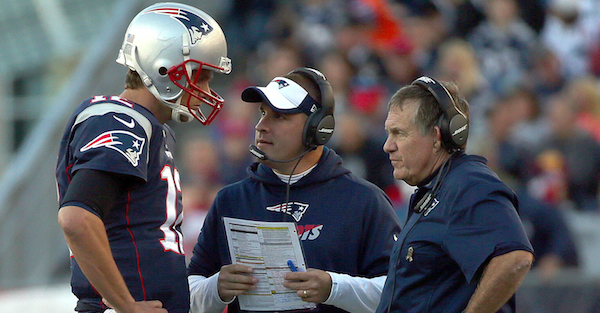 Jim Rogash/Getty Images
FOXBORO, MA - NOVEMBER 8: Tom Brady #12 of the New England Patriots confers with Josh McDaniels and Bill Belichick in the second half during a game with the Washington Redskins at Gillette Stadium on November 8, 2015 in Foxboro, Massachusetts. (Photo by Jim Rogash/Getty Images)
Several NFL head coaching jobs will be available this offseason, and New England Patriots offensive coordinator Josh McDaniels will be the top coaching candidate for many openings.
Related: With one player in the lineup, the Patriots have never lost
According to the Boston Globe, many insiders think McDaniels and backup quarterback Jimmy Garoppolo might be a package deal, though he values ownership, current roster and organizational structure more. It's highly unlikely McDaniels would take a job with a division rival, and the New York Jets and Buffalo Bills could have openings.
The Los Angeles Rams and Jacksonville Jaguars both have openings already, and McDaniels will be high up the list for both franchises. If the Arizona Cardinals have a vacancy due to health concerns with Bruce Arians, that could be another potential landing spot.
McDaniels can be as picky as he wants with his next coaching gig considering his success with the Patriots. His tenure with the Denver Broncos didn't end well, but he's proven himself again over the last several seasons in Foxboro.
(h/t Boston Globe)