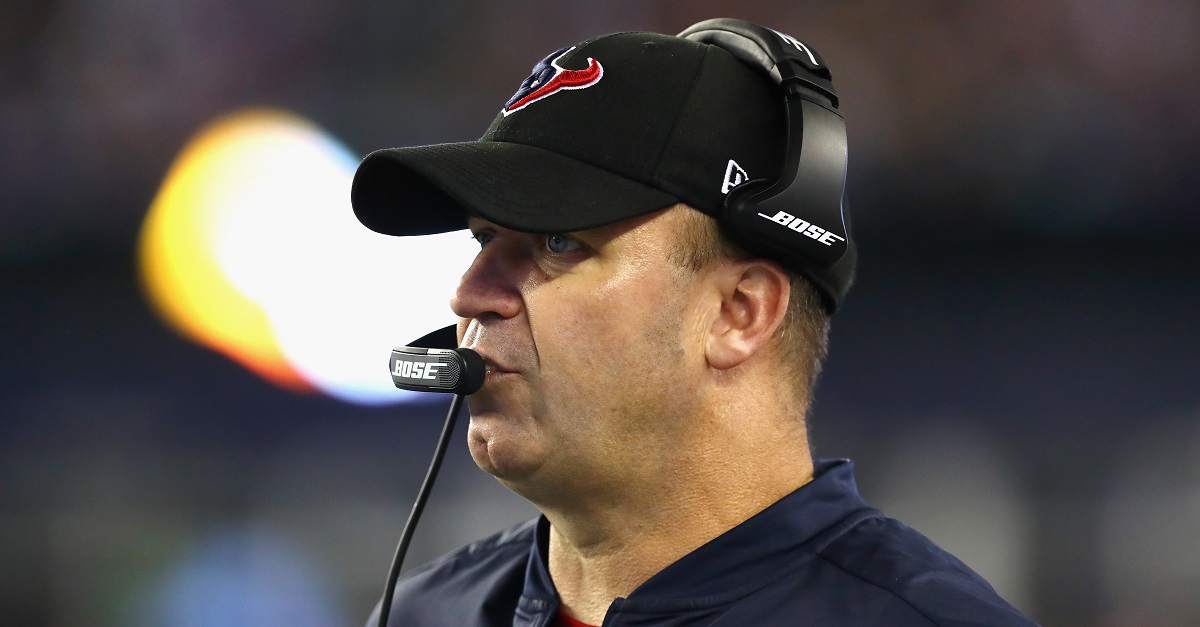 Adam Glanzman/Getty Images
FOXBORO, MA - SEPTEMBER 22: Head coach Bill O'Brien of the Houston Texans looks on during the game against the New England Patriots at Gillette Stadium on September 22, 2016 in Foxboro, Massachusetts. (Photo by Adam Glanzman/Getty Images)
The Houston Texans are 2-1 and are first in the AFC South thanks to some stout defense. The offense only averages 14 points a game so that's definitely not the third of the team getting the job done. However, the defense — the part of the team playing best — just lost one of its best players, at least for a good while.
RELATED: J.J. Watt's 'groin injury' is much worse than previously thought
Dominant defensive end J.J. Watt will likely not play again, at least for several weeks and could potentially miss the rest of the season. He re-injured his back against the New England Patriots in their Week 3 game last Thursday. NFL.com's Ian Rappaport is reporting that Watt will be sidelined for an extended period of time and the Texans will place him on the Injured Reserve list.
The 27-year-old three-time Defensive Player of the Year missed the entire preseason after undergoing surgery to repair a herniated disk in late July. Watt has not missed a game in his career, but has had some serious injuries the past few times he's suited up.
Watt recently revealed that he questioned whether he would play again after tearing several abdominal muscles off the bone in the Texans' playoff loss to the Chiefs last January. Aggravating his back injury last week, Watt managed fewer than three tackles and zero quarterback hits for the first time since his rookie year in 2011.