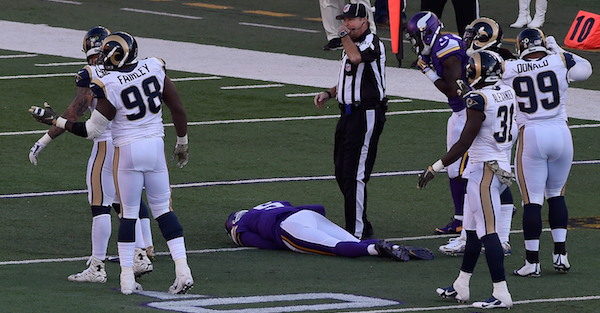 Hannah Foslien/Getty Images
MINNEAPOLIS, MN - NOVEMBER 8: Teddy Bridgewater #5 of the Minnesota Vikings lays on the field after a hit by Lamarcus Joyner #20 of the St. Louis Rams during the fourth quarter of the game on November 8, 2015 at TCF Bank Stadium in Minneapolis, Minnesota. The Vikings defeated the Rams 21-18 in overtime. (Photo by Hannah Foslien/Getty Images)
Updates seem to get worse and worse regarding Minnesota Vikings quarterback Teddy Bridgewater.
The emerging quarterback suffered a brutal knee injury in August of last year, which caused him to miss the entire 2016 season. The latest timetables have Bridgewater potentially missing the entire 2017 season, too, and Vikings general manager Rick Spielman seemed to indicate on Thursday that he had no idea if Bridgewater would ever be back with the Vikings.
The last part is interesting, as current Vikings quarterback Sam Bradford will be a free agent after the 2017 season. Bradford performed relatively well while filling in for Bridgewater, throwing for 3,877 yards (71.6-percent completion) and 20 touchdowns against just five interceptions. If the Vikings are looking for a "quarterback of the future", Bradford is certainly a much lesser risk than Bridgewater at this point.
As for Bridgewater, he has a lot to recover from after an injury that reportedly put his leg at risk for amputation. There are questions if Bridgewater will be able to return to the NFL at all, as Adam Schefter reported back in October, via CBS.
?Teddy Bridgewater continues to rehab in Minnesota and he is making progress. Nearly two months after he dislocated his knee, Bridgewater is making strides and Vikings officials are pleased with where he?s at. But other doctors around the league know there are no guarantees Bridgewater will be able to return to the type of quarterback he was, if he makes it back to the NFL at all.

As one doctor who?s worked with NFL teams said this week, ?If he didn?t make it back, it wouldn?t surprise me. This is a bad injury, about the worst knee injury a player can have.?
In just his second season in the league in 2015, Bridgewater led the Vikings to the playoffs, where they suffered a chilly defeat to the Seattle Seahawks. The Viking had an 11-5 record that year, and appeared to be on the rise thanks to the young quarterback.