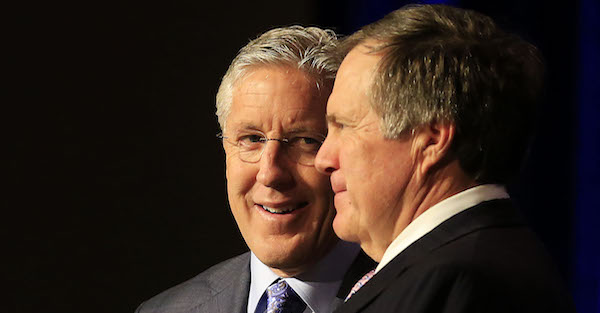 Rob Carr/Getty Images
PHOENIX, AZ - JANUARY 30: New England Patriots Head Coach Bill Belichick (R) and Seattle Seahawks Head Coach Pete Carroll attend a joint press conference prior to the upcoming Super Bowl XLIX on January 30, 2015 in Phoenix, Arizona. (Photo by Rob Carr/Getty Images)
Bill Belichick works tirelessly around the clock, and that apparently includes during Christmas dinner.
Last year, on Christmas day, the New England Patriots head coach gave tight end Asante Cleveland a shout during dinner at a teammate's house, and it didn't end well, per San Diego Union Tribune:
?He was like, ?Hey Asante. It?s Belichick,?? Cleveland recounted, doing his best Belichick voice impression. ?He said, ?We?re going to have to make some roster moves.? At that point, I knew what ?roster moves? means. It means I?m being moved from the roster. We needed to bring in a cornerback because we were playing the Jets.

?He said, ?I just want to let you know this is no indication we?re moving away from you. We really like you. ? We just need to make this quick transaction.? That call ended. I said, ?Merry Christmas.? I don?t know if he heard me. He didn?t say it back.?
Cleveland shared that he had drink and went to a hockey game to try to salvage his holiday.
He was picked up on waivers on the following Monday by the San Diego Chargers, but what a rotten way to spend your Christmas night.