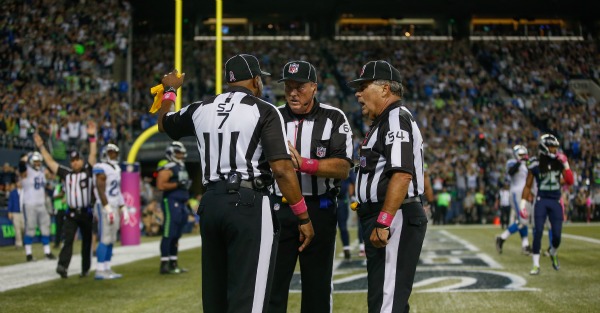 Otto Greule Jr/Getty Images
SEATTLE, WA - OCTOBER 05: Referees confer after the ball was batted out of the end zone by outside linebacker K.J. Wright of the Seattle Seahawks following a fumble by wide receiver Calvin Johnson of the Detroit Lions in the fourth quarter at CenturyLink Field on October 5, 2015 in Seattle, Washington. The Seahawks defeated the Lions 13-10. (Photo by Otto Greule Jr/Getty Images) *** Local Caption *** Referees
NFL referees currently aren't full-time employees of the league. Most officials have jobs outside of officiating. For example, Ed Hochuli is an attorney, and Gene Steratore owns a sanitary supply store in Pennsylvania.
However, NFL Senior V.P. of Officiating Dean Blandino told PFT Live that the NFL is moving toward having full-time referees—meaning they will have to give up their other professions.
Related: NFL makes announcement on rule that screwed the Cowboys in the playoffs 
Blandino is concerned that some referees will quit if they are forced to be officials full-time and have to give up their other jobs.
"It's certainly a concern," Blandino said. "When you look at our sport, football is different from other sports. We typically play once a week and as officiating has evolved, that's why football officials have had other professions, because of the longer gap between games. So that's a concern.
"We're looking at it from a phased-in approach, and giving our referees the opportunity to have two or three years to phase into this and maybe phase out of their other professions. The concern is there, it's real, you may lose some of your better people, but we think the benefits of full-time officiating outweigh those risks and we're going to continue down that path."
If the NFL thinks making officials full-time would improve officiating—and it might—then this could be a good thing for the league. But if several of the top officials quit because they aren't making as much money as they were in their other professions, then it could be disastrous for the NFL.
Remember the replacement referees after the 2012 NFL referee lockout? They botched several calls, including the infamous Monday Night Football contest between the Green Bay Packers and Seattle Seahawks. This could be something positive for the league, but if too many officials quit, the NFL could be in bad shape.
(h/t Pro Football Talk)