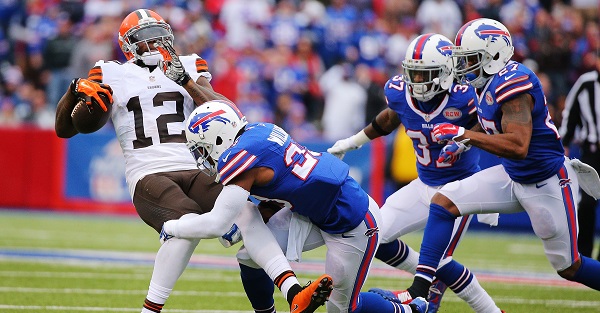 Brett Carlsen/Getty Images
ORCHARD PARK, NY - NOVEMBER 30: Josh Gordon #12 of the Cleveland Browns is tackled by Aaron Williams #23 of the Buffalo Bills during the first half at Ralph Wilson Stadium on November 30, 2014 in Orchard Park, New York. (Photo by Brett Carlsen/Getty Images)
Josh Gordon hasn't taken the field for an NFL regular season game since 2014 and, despite some optimism to the contrary, he'll have to wait even longer. Ian Rapoport of NFL Network brings word that the troubled Cleveland Browns wide receiver recently applied for reinstatement to the NFL but, as first reported by USA Today, the NFL did not grant his request.
Currently, Gordon is suspended indefinitely and, with that, the NFL must allow him back in for the talented athlete to jump back into action. Weeks ago, Adam Schefter of ESPN brought word from Michael Johnson, a liaison for Gordon, and he shed a positive light on his future.
"Josh is living with me and is in the best place mentally that he has been in dating back years before entering the NFL. He has taken the proper steps to treat his issues and has followed a very strict protocol that the league and our team here has laid out for him. He's also in the best shape of his life and feels even better than he did when he had his breakout year in 2013. This will be a special year for Josh and we are all very proud of the way he has taken the necessary steps to turn his life around."
Still, this optimistic outlook apparently was not enough to grant Gordon reinstatement and he will have to look forward for another opportunity in the future if he wants to restart his football career.